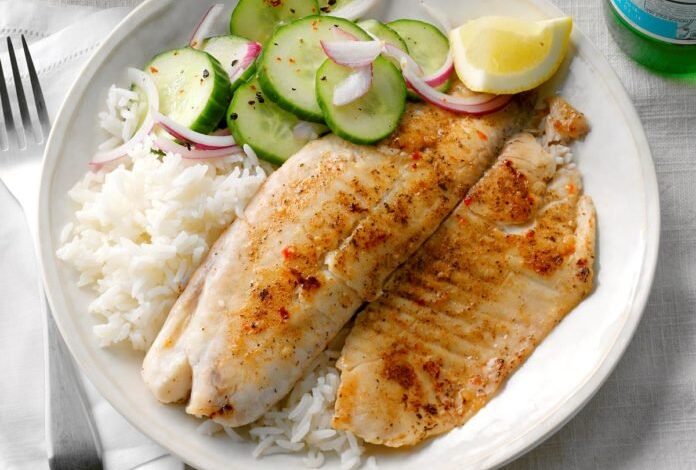 Ingredients:
For the Tilapia:
2 tilapia fillets
Salt and pepper to taste
2 tablespoons olive oil
1 lemon (for juice and slices)
2 cloves garlic, minced
1 teaspoon dried oregano (optional)
For the Jasmine Rice:
1 cup jasmine rice
2 cups water
1/2 teaspoon salt
Instructions:
For the Jasmine Rice:
Rinse the jasmine rice under cold water until the water runs clear. This helps remove excess starch.
In a medium saucepan, combine the rinsed rice, water, and salt.
Bring to a boil over high heat, then reduce the heat to low, cover, and simmer for about 15-18 minutes, or until all the water is absorbed and the rice is tender.
Remove from heat and let it sit, covered, for about 5 minutes. Then fluff the rice with a fork.
For the Tilapia:
Preheat your oven to 375°F (190°C).
Season both sides of the tilapia fillets with salt and pepper.
In an ovenproof skillet, heat the olive oil over medium-high heat.
Add the minced garlic and cook for about 30 seconds to 1 minute until fragrant, being careful not to burn it.
Place the tilapia fillets in the skillet and cook for 2-3 minutes on one side until they are nicely seared and golden.
Squeeze the juice of half a lemon over the fillets, then flip them and cook for an additional 2-3 minutes.
Place lemon slices on top of the fillets and transfer the skillet to the preheated oven. Bake for about 5-7 minutes, or until the tilapia is cooked through and flakes easily with a fork.
If you're using dried oregano, sprinkle it over the fish after removing it from the oven.
To Serve:
Serve the tilapia fillets over a bed of jasmine rice. You can garnish with additional lemon slices and fresh herbs if desired.
Enjoy your delicious Tilapia with Jasmine Rice! If you'd like, you can also add some steamed vegetables or a side salad for a well-rounded meal