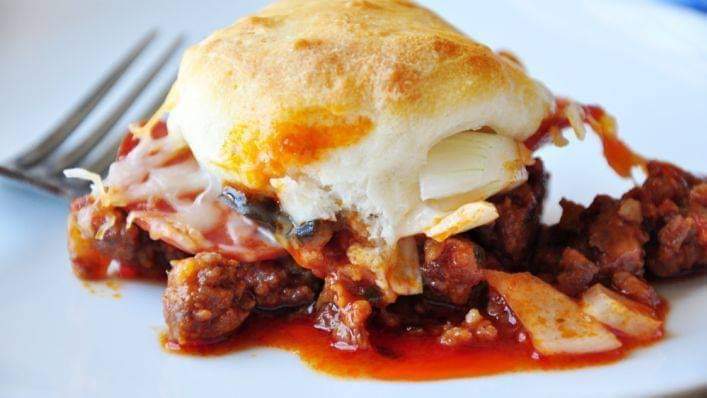 1 lb ground beef
1 cup onion, chopped
1 (2 ounce) cansliced black olives, drained
1 (15 ounce) can pizza sauce
1⁄4 lb pepperoni, coarsely chopped
1⁄2 teaspoon dried Italian seasoning
1 (4 ounce) can sliced mushrooms, drained
6 ounces mozzarella cheese, thinly sliced
TOPPING
1 cup milk
1 tablespoon oil
2 eggs
1 cup flour
1⁄4 teaspoon salt
1⁄4 cup parmesan cheese
Directions
In a large skillet over medium-high heat, brown ground beef and onions.
Drain.
Stir in olives, pizza sauce, pepperoni, seasoning, and mushrooms.
Bring to a boil.
Reduce heat to low; simmer uncovered 10 minutes, stirring occasionally.
Meanwhile, in a small bowl, combine milk, oil and eggs; beat 1 minute at medium speed.
Add flour and salt; beat 2 minutes at medium speed or until smooth.
Spoon meat mixture evenly into ungreased 9 x 13 inch dish.
Place cheese slices over hot meat mixture.
Pour topping evenly over cheese, covering completely; sprinkle with Parmesan.