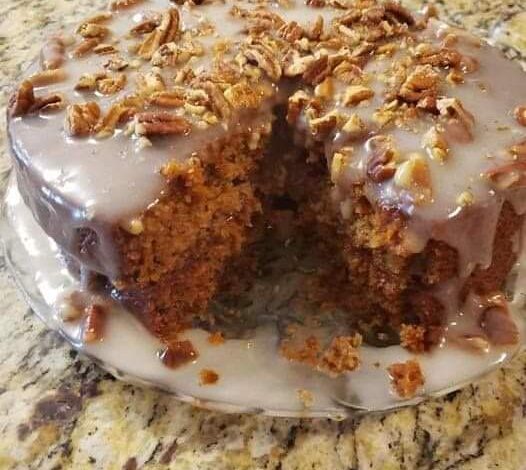 Ingredients:
2 cups all-purpose flour
2 tsp baking powder
1 tsp baking soda
1 tsp ground cinnamon
1/2 tsp ground ginger
1/2 tsp salt
1/2 cup vegetable oil
1/2 cup unsweetened applesauce
1 cup granulated sugar
1/2 cup non-dairy milk (such as almond or soy milk)
2 tsp vanilla extract
2 cups grated carrots (about 4 medium carrots)
1 cup chopped walnuts (optional)
For the vegan cream cheese frosting:
8 oz vegan cream cheese, softened
1/4 cup vegan butter, softened
2 cups powdered sugar
1 tsp vanilla extract
Instructions:
Preheat the oven to 350°F (180°C). Grease a 9-inch round cake pan or line it with parchment paper.
In a medium bowl, whisk together the flour, baking powder, baking soda, cinnamon, ginger, and salt.
In a large bowl, whisk together the vegetable oil, applesauce, and granulated sugar until well combined. Add the non-dairy milk and vanilla extract and whisk until smooth.
Add the dry ingredients to the wet ingredients and stir until just combined. Fold in the grated carrots and chopped walnuts, if using.
Pour the batter into the prepared cake pan and smooth the top with a spatula.
Bake for 35-40 minutes, or until a toothpick inserted into the center of the cake comes out clean.
Let the cake cool in the pan for 10 minutes, then remove it from the pan and transfer it to a wire rack to cool completely.
To make the vegan cream cheese frosting, beat the vegan cream cheese and vegan butter together in a large bowl until smooth. Add the powdered sugar and vanilla extract and beat until well combined.
Once the cake has cooled completely, spread the cream cheese frosting over the top of the cake. Serve and enjoy!
Note: You can also make this recipe into cupcakes. Simply divide the batter evenly among 12 cupcake liners and bake for 20-25 minutes.