Vegan
Vegan Sausage Casserole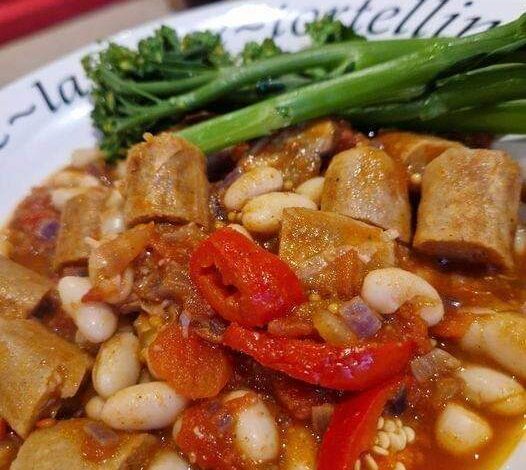 Ingredients:
1 tablespoon olive oil
1 onion, chopped
2 cloves garlic, minced
6 vegan sausages, sliced into bite-size pieces
2 bell peppers, chopped
1 can diced tomatoes
1 can kidney beans, drained and rinsed
1 teaspoon dried oregano
1 teaspoon smoked paprika
Salt and pepper, to taste
1 cup vegetable broth
1 cup uncooked rice
Instructions:
Preheat the oven to 375°F (190°C).
Heat the olive oil in a large skillet over medium-high heat. Add the chopped onion and minced garlic, and cook until the onion is soft and translucent.
Add the sliced vegan sausages to the skillet, and cook until they are browned on all sides.
Add the chopped bell peppers, diced tomatoes, and kidney beans to the skillet. Season with dried oregano, smoked paprika, salt, and pepper. Stir everything together, and let it cook for a few minutes.
Pour the vegetable broth into the skillet, and stir everything together again.
Add the uncooked rice to the skillet, and stir everything together one more time.
Transfer the skillet to the preheated oven, and bake for 30-35 minutes, or until the rice is cooked and the casserole is hot and bubbly.
Serve the vegan sausage casserole hot, garnished with fresh herbs if desired.