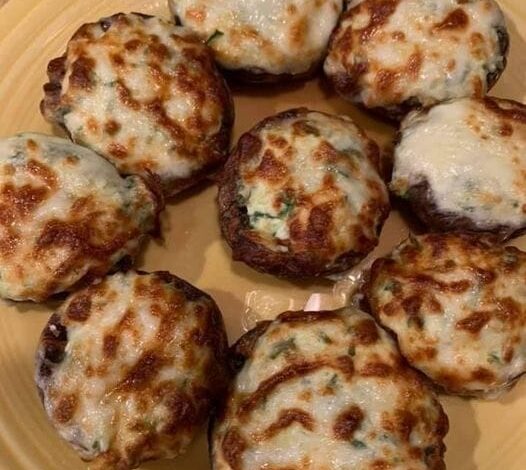 PREP TIME: 15minutes mins
COOK TIME: 25minutes mins
TOTAL TIME: 40minutes mins
YIELD: 12 servings
COURSE: Appetizer
CUISINE: American
Ingredients
Olive oil spray
1 ½ pounds baby bella mushrooms (or larger white mushrooms for stuffing)
Kosher salt
Freshly ground black pepper
10 ounces frozen chopped spinach (thawed and excess liquid squeezed out)
4 ounces cream cheese (1/2 block )
½ cup freshly grated parmesan cheese (plus 2 tablespoons for topping)
1 cup part-skim mozzarella cheese
¼ cup chopped scallions (plus extra (optional) green for garnish)
2 cloves garlic (minced)
¼ cup light sour cream
2 tablespoons Italian seasoned breadcrumbs (or gluten-free panko)
Instructions
Preheat oven to 400F. Spray 2 sheet pans with oil and set aside.
Gently remove the stems from the mushrooms and place stem-side down on the sheet pan.
Spray with olive oil and sprinkle with 2 pinches of salt and pepper, to taste.
Finely chop stems and place them in a large mixing bowl.
To the large bowl, add the spinach, cream cheese, ½ cup parmesan cheese, mozzarella, scallions, garlic, sour cream, ¼ teaspoon salt and pepper to taste. Mix with a fork to thoroughly combine.
Flip mushrooms stem-side up and stuff each mushroom with about 1 tablespoon filling, depending on the mushroom size, pressing mixture into the cavity of the mushroom and a small mound on top.
In a small bowl, combine the breadcrumbs and remaining 2 tablespoons parmesan cheese.
Top each stuffed mushroom with a sprinkle of breadcrumb mixture, gently spray tops with olive oil and bake for 25-30 minutes, rotating pans halfway through cooking to allow for even browning.
Allow to cool slightly and with a spatula, transfer to serving platter to serve warm or at room temperature.
Nutrition
Serving: 3medium stuffed mushrooms, Calories: 105kcal, Carbohydrates: 5g, Protein: 7g, Fat: 7g, Saturated Fat: 4g, Cholesterol: 20mg, Sodium: 219mg, Fiber: 1g, Sugar: 2g
W/W Points: 4