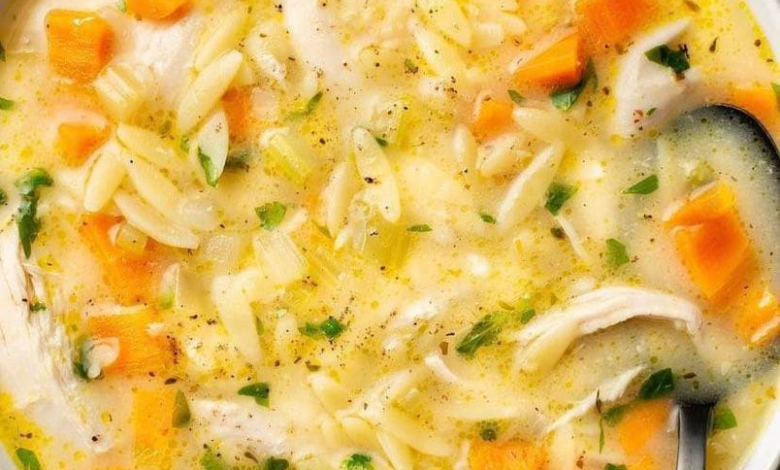 Ingredients:
1 lb boneless, skinless chicken breasts, cut into bite-sized pieces
1 cup uncooked orzo pasta
1 onion, finely chopped
2 carrots, diced
2 celery stalks, diced
2 cloves garlic, minced
6 cups low-sodium chicken broth
2 teaspoons olive oil
1 lemon, juiced and zested
Salt and pepper to taste
Fresh parsley for garnish (optional)
Instructions:
Cook Orzo:

Cook the orzo according to the package instructions. Drain and set aside.

Sauté Vegetables and Chicken:

In a large pot, heat the olive oil over medium heat. Add the chopped onion, diced carrots, and diced celery. Cook for about 5 minutes, or until the vegetables start to soften.
Add the minced garlic and cook for another 30 seconds, or until fragrant.
Add the chicken pieces and cook until they are no longer pink in the center, about 5-7 minutes.

Add Chicken Broth:

Pour in the chicken broth and bring the mixture to a boil. Reduce the heat and let it simmer for about 10-15 minutes, or until the vegetables are tender and the chicken is cooked through.

Add Cooked Orzo and Lemon:

Stir in the cooked orzo, lemon juice, and lemon zest. Simmer for an additional 2-3 minutes to heat everything through.

Season and Serve:

Season with salt and pepper to taste. If you like, garnish with fresh parsley.

Enjoy:

Serve hot and enjoy your delicious Weight Watchers Chicken Orzo Soup with Lemon!
Please note that the SmartPoints value of this soup may vary depending on the specific brands and types of ingredients you use, so it's always a good idea to double-check with the official Weight Watchers resources or app for the most accurate information. Enjoy your healthy and flavorful soup!