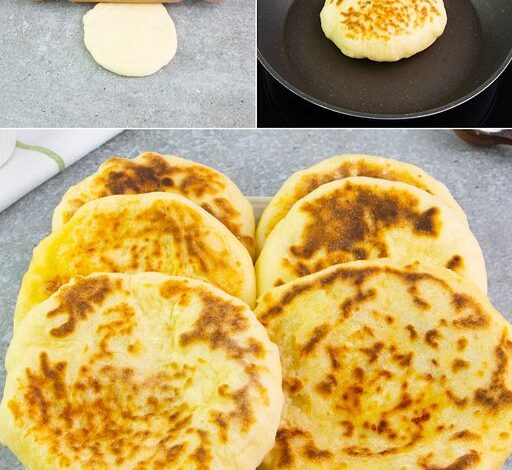 Ingredients:
For the naan bread:
1 ½ cups almond flour
2 teaspoons baking powder
1 teaspoon garlic powder
1 teaspoon onion powder
¼ teaspoon salt
2 cups shredded part-skim mozzarella cheese (or reduced-fat cheese)
2 tablespoons fat-free cream cheese
2 large eggs
For topping:
¼ cup shredded part-skim mozzarella cheese
Chopped fresh cilantro (optional)
Cooking spray (e.g., olive oil spray) for brushing (optional)
Instructions:
Preheat your oven to 375°F (190°C).
In a microwave-safe bowl, combine the shredded mozzarella cheese and fat-free cream cheese. Microwave in 30-second intervals, stirring in between, until the cheeses are fully melted and combined.
In a separate bowl, whisk together the almond flour, baking powder, garlic powder, onion powder, and salt.
Add the dry mixture and the eggs to the melted cheese mixture. Mix well until you have a dough-like consistency. If the dough is too sticky, you can add a little more almond flour.
Divide the dough into 4 equal portions.
Place a piece of parchment paper on a baking sheet. Take one portion of the dough and place it on the parchment paper. Use your hands to flatten and shape the dough into a naan bread shape, about ¼ to ½ inch thick.
Sprinkle a bit of shredded mozzarella cheese and chopped cilantro on top of the naan, if desired.
Repeat the process with the remaining portions of dough.
Lightly spray the tops of the naan bread with cooking spray for a crispy texture.
Place the baking sheet in the preheated oven and bake for about 10-12 minutes, or until the naan bread is golden brown and cooked through.
Once the naan bread is done, you can optionally brush the tops with ghee or melted butter for added flavor. (Note: Be mindful of added SmartPoints when using butter or ghee.)
Allow the naan bread to cool slightly before serving.