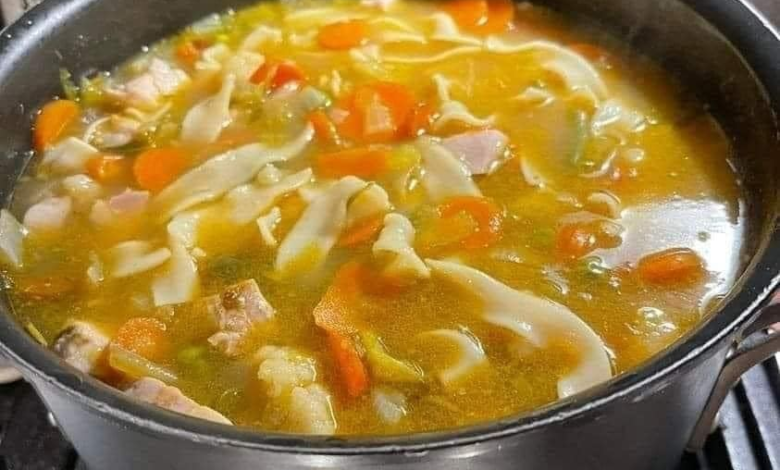 Here's a simple recipe for Weight Watchers-friendly chicken noodle soup that's delicious and relatively low in SmartPoints, which is the Weight Watchers' system for tracking food intake.
Ingredients:
1 pound boneless, skinless chicken breasts, cut into small pieces
1 medium onion, diced
2 cloves garlic, minced
3 carrots, sliced
3 celery stalks, sliced
8 cups low-sodium chicken broth
1 teaspoon dried thyme
1 teaspoon dried parsley
Salt and pepper to taste
2 cups uncooked whole wheat pasta (use a shape like rotini or penne)
Cooking spray (for sautéing)
Instructions:
Spray a large pot with cooking spray and heat it over medium-high heat.
Add the diced onion and garlic to the pot and sauté for 2-3 minutes until they become fragrant and the onion is translucent.
Add the chicken pieces and cook until they're no longer pink, about 5-7 minutes.
Add the carrots and celery to the pot and continue cooking for another 3-4 minutes.
Pour in the chicken broth, dried thyme, dried parsley, salt, and pepper. Stir well and bring the mixture to a boil.
Once the soup is boiling, reduce the heat to low, cover the pot, and let it simmer for about 15-20 minutes, or until the vegetables are tender.
In a separate pot, cook the whole wheat pasta according to the package instructions. Drain the pasta and set it aside.
When the soup is ready, add the cooked pasta to the pot and stir to combine.
Taste the soup and adjust the seasoning with more salt and pepper if needed.
Serve hot and enjoy your Weight Watchers-friendly chicken noodle soup!
Remember to adjust the SmartPoints value based on your specific Weight Watchers plan and the specific ingredients you use. Additionally, feel free to add more vegetables or seasonings to suit your taste preferences while keeping track of the SmartPoints.