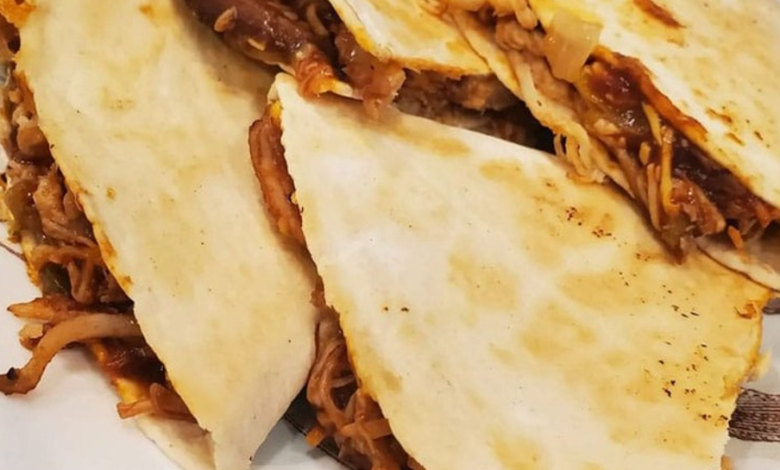 Ingredients:
4 whole wheat tortillas (8-inch size)
1 cup cooked and shredded chicken breast
1 cup reduced-fat shredded cheddar cheese
1/2 cup salsa
1/4 cup diced red onion
1/4 cup chopped cilantro (optional)
Cooking spray
Instructions:
Preheat a non-stick skillet or griddle over medium heat.
In a bowl, combine the shredded chicken, diced red onion, and salsa. Mix well.
Lay out one tortilla and spread 1/4 cup of shredded cheese evenly over half of the tortilla.
Spoon half of the chicken mixture over the cheese.
Fold the tortilla in half over the filling to create a half-moon shape.
Lightly spray the skillet or griddle with cooking spray.
Place the quesadilla on the skillet and cook for about 2-3 minutes on each side, or until the tortilla is golden brown and the cheese is melted.
Remove the quesadilla from the skillet and let it cool for a minute before cutting it into wedges.
Repeat the process with the remaining tortillas and filling.
Optional: Sprinkle chopped cilantro on top before serving.
Nutritional Information (per serving):
This recipe makes 4 servings.
Calories: ~300 calories per serving
Protein: ~25g per serving
Fat: ~10g per serving
Carbohydrates: ~25g per serving
Keep in mind that these are approximate values and may vary depending on the specific brands and quantities of ingredients you use. Enjoy your Weight Watchers Chicken Quesadillas!