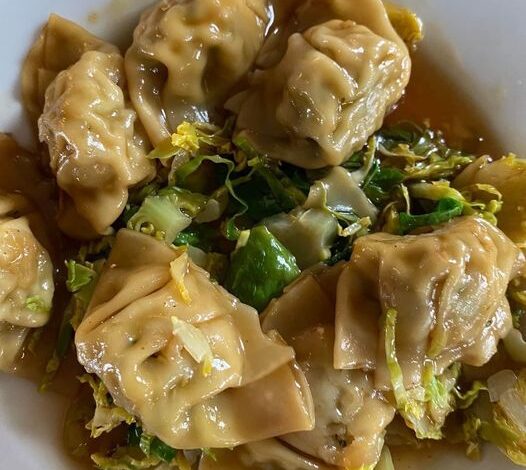 Weight Watchers Chinese Wonton Soup Recipe. Who doesn't love a big bowl of steaming hot wonton soup on a cold winter day?
This delicious and comforting dish is perfect for warming you up from the inside out.
It's also surprisingly easy to make, so you can enjoy it any time you want.
This soup is packed full of flavor, and it's easy to customize based on your preferences. This delicious Asian soup is easier to make than you would think.
It's made with boneless pork tenderloin, shrimp, Chinese rice wine, soy sauce, green onion, a touch of brown sugar, ginger root, wonton wrappers, and chicken stock.
There's no need to get takeout when you can make it at home.
If you've never had wonton soup before, you definitely need to try it!
INGREDIENTS
½ pound boneless pork tenderloinchopped coarse
2 ounces shrimp peeled and chopped fine
1 tablespoon Chinese rice wine
1 tablespoon light soy sauce
1 teaspoon green onion chopped fine
1 teaspoon brown sugar
1 teaspoon fresh ginger root chopped
24 (3½ inch square) wonton wrappers
3 cups chicken stock
⅛ cup green onions chopped fine
INSTRUCTIONS
For the Wontons:
In a large mixing bowl, add pork, shrimp, Chinese red wine, light soy sauce, green onion, brown sugar, and fresh ginger root. Stir to mix well.
Let mixture sit for 30 minutes.
Layout the wonton wrappers and place 1 teaspoon of mixture slightly off-center of the middle of each wrapper.
Wet your pointer finger with water, and run it around the edges each wonton wrapper to moisten.
Take one edge of the wonton wrapper, and fold it over the filling, making a triangle.
Press the edges of the wontons to seal the wrapper edges together.
Pick up the two outside corners and place then on top of the wonton, wet your finger again, moisten the corners you picked up, overlap them then press them firmly to keep them in place on top of the wonton. Repeat for the rest of the wrappers.
For the Soup:
In a soup pot, add chicken stock. Place over medium/high heat, and bring to a rolling boil.
Carefully drop the wontons in the boiling stock, and cook for 5 minutes.
To Serve:
Garnish with green onion.
NOTES
Serving Size: 3 wontons and 8 ounces of liquid.
MyWW Points: 3 Blue Plan and 4 Green Plan
3 WW Freestyle Points and 4 Smart Points