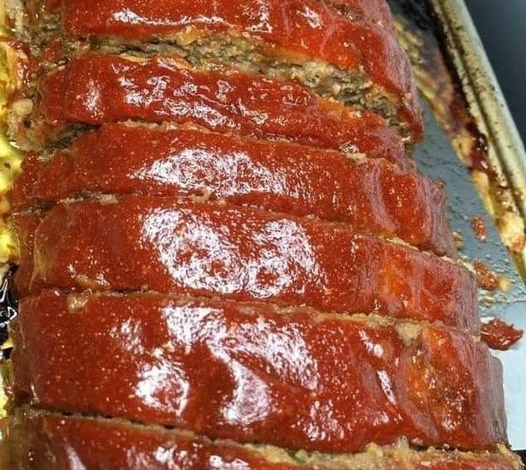 My favorite meat loaf recipe, healthy and delicious that can be varied all kinds of ways. Just 7 Freestyle SmartPoints and works with Simply Filling/No Count Technique.
PREP TIME20MINUTES MINS
COOK TIME1HOUR HR
TOTAL TIME1HOUR HR 20MINUTES MINS
Servings: 4
Calories: 243
Author: Martha McKinnon | Simple Nourished Living
Ingredients
▢2 teaspoons canola oil
▢1 cup finely chopped white mushrooms
▢1 cup finely chopped onion
▢1 carrot, peeled and finely chopped
▢1 stalk celery, finely chopped
▢1 pound lean ground beef (7% or less)
▢½ cup quick cooking or old-fashioned oats (not instant)
▢2 large egg whites (I use 1 whole egg instead)
▢3 tablespoons ketchup (plus more for brushing on top)
▢1 tablespoon Worcestershire sauce
▢1 teaspoon dried thyme leaves (not ground thyme)
▢1 teaspoon salt
▢¼ teaspoon black pepper
▢½ teaspoon garlic powder (or 1 teaspoon minced fresh)
Instructions
Preheat oven to 350F degrees. Spray a 4-½ x 8-½-inch loaf pan with cooking spray.
Heat the oil in a large nonstick skillet set over medium heat. Add the mushrooms, onion, carrot, and celery. Cook, stirring frequently, until the onion is softened, about 5 minutes. Transfer this mixture to a large bowl.
Add the remaining ingredients to the vegetables in the bowl and mix well. Press the meatloaf into the prepared loaf pan.
Bake the meatloaf for 30 minutes. Brush additional ketchup on top of the loaf, if desired.
Cook until done, an additional 30 to 45 minutes. (An instant read thermometer inserted into the center of the loaf should read 160F degrees.)
Remove from the oven and let rest for about 5 minutes. Cut into 8 slices.
Recipe Notes
Meatloaf Recipe Variations:
Spinach-Feta Meatloaf: Add 10 ounces thawed frozen chopped spinach (drained and squeezed dry) and ½ cup reduced-fat crumbled feta cheese to the meat loaf mixture. (7 Freestyle SmartPoints)
BBQ Cheeseburger Meatloaf: Add ½ cup shredded reduced fat cheddar cheese to the meat loaf mixture and substitute favorite BBQ sauce for the ketchup. (9 Freestyle SmartPoints)
Italian Meatloaf with Roasted Red Peppers: Add ¼ cup chopped roasted red peppers (not packed in oil) to the mushroom mixture in step 1. Add ½ cup grated Parmesan cheese and ¼ cup chopped fresh basil to the meat meat loaf mixture. (7 Freestyle SmartPoints)
Click here to see your WW PersonalPoints for this recipe and track it in the WW app or site.
7 *SmartPoints (Green plan)
7 *SmartPoints (Blue plan)
7 *SmartPoints (Purple plan)
6 *PointsPlus (Old plan)
Nutrition Facts
Weight Watchers Meatloaf Recipe
Amount Per Serving (2 slices)
Calories 243Calories from Fat 72
% Daily Value*
Fat 8g12%
Carbohydrates 15g5%
Fiber 2g8%
Protein 26g52%
* Percent Daily Values are based on a 2000 calorie diet.