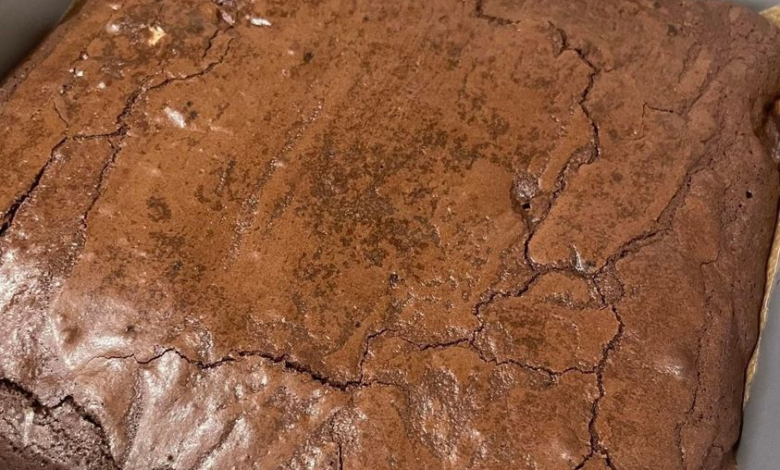 This One Point Sheet Pan Brownie is everything you'd want in homemade BUT lower in points than classic homemade brownies! The best part is that they can be ready in less than 40 minutes. They are the PERFECT chocolatey treat!
PREP TIME5 minutes
COOK TIME25 minutes
ADDITIONAL TIME10 minutes
TOTAL TIME40 minutes
Ingredients
Ingredients
2 cups all-purpose flour
1 1/2 cups white granulated sugar substitute-I use Lakanto Monkfruit Baking Sweetener
1/4 cup unsweetened cocoa powder- I use Great Value Unsweetened Baking Cocoa
1/4 tsp salt
1 tsp baking soda
4 Tbsp light butter made with canola oil, melted
1 tsp vanilla extract
1 cup hot water
2 large eggs or 4 eggs whites
1/2 cup non fat plain Greek yogurt
Instructions
Instructions
Preheat oven to 350 degrees.
In a large mixing bowl, combine the dry ingredients; flour, sugar substitute, cocoa, salt, and baking soda.
Stir in hot water, melted light butter, and vanilla. Mix until well combined.
Whisk in non fat plain Greek yogurt and eggs. Mix until well combined.
Spray a (10 x 15) baking or cookie sheet with non stick cooking spray.
Pour the brownie batter in prepared pan. Spread batter evenly throughout the pan.
Bake for about 25-28 minutes, or until a toothpick, when inserted, comes out clean.
Remove from oven. Allow the brownies to cool for 5-10 minutes on the counter before cutting and serving.
Dust the tops of the brownies with powder sugar or add a layer of my chocolate frosting, if desired.Servings: Makes 30 brownies 1 Personalpoints for 1 brownie or 3 personalponts for 2 brownies without frostingGREEN/BLUE/PURPLE: 1 Smartpoint for 1 brownie without frosting or 2 brownies for 3 Smartpoints4 Smartpoints for 1 brownie with homemade chocolate glaze* see notes for recipe or 2 Smartpoints for 1 brownie with Pillsbury sugar free chocolate frosting
Notes
Optional Homemade Frosting Recipe Ingredients: