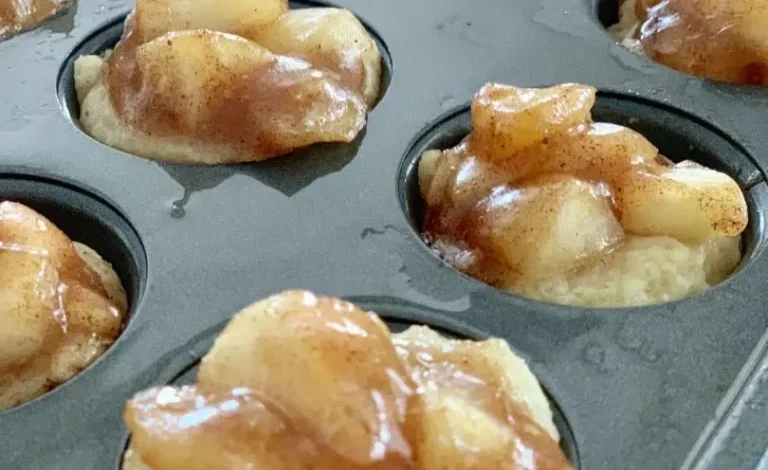 These WW Mini Apple Pie Cookies taste just like an apple pie, but in a cookie! Perfect for fall gatherings!
Ingredients
2 cups all purpose flour ( I use Gold Medal)
2 Tbsp Land o' Lakes light butter made with canola oil
3/4 cup unsweetened applesauce
2/3 cup white sugar substitute ( I use Lakanto Monkfruit Classic Sweetener)
1 tsp ground cinnamon
1/4 tsp nutmeg
1/4 tsp all spice
pinch of salt
2 cups no sugar added apple pie filling- I use my Zero Point Apple Pie Filling or Wilderness No Sugar Added Apple Pie Filling
Smucker's sugar free caramel sundae sauce for additional points, garnish
Instructions
Preheat the oven to 375 degrees.
In large mixing bowl cream together light butter, unsweetened applesauce and sugar substitute.
Add 1/4 tsp all spice, flour, salt and stir until just combined.
Open the can of apple pie filing. Pour filling into separate bowl.
Using a knife, chop apples from filling into small pieces. Place chopped apples in
with the filling. Add cinnamon and nutmeg. Stir until well combined.
Spray a 24 mini muffin tin with non stick cooking spray. Spoon batter into each muffin tin. Press down the middle of the dough using the back of a small spoon.
Place a small spoon of apple pie filling in the center of each mini pie. Repeat until all 24 mini pies are complete.
Bake for 10-12 minutes or until golden brown.  Drizzle with sugar free caramel sauce, if desired.
Store in an airtight container in the fridge for up to a week. Reheat in air fryer or microwave.
Notes
The Lakanto Monkfruit Sweetener (sugar substitute) that is used in this recipe is zero points. Please keep in mind-the point value can vary depending on the brand of sugar substitute you choose to use.
The Lakanto Monkfruit Sweetener has a 1:1 ratio to real sugar. If you use a different sugar substitute you will want to use the equivalent to real sugar that is recommended on back of the sugar substitute package.