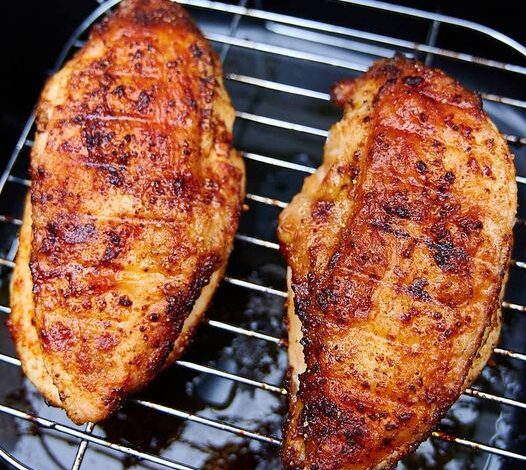 Ingredients:
2 boneless, skinless chicken breasts
1/2 cup all-purpose flour
2 eggs
1 cup panko breadcrumbs
2 tablespoons sesame seeds
Salt and pepper, to taste
Cooking spray or oil for the air fryer basket
For the Sauce:
1/4 cup soy sauce
2 tablespoons honey
2 tablespoons rice vinegar
1 tablespoon sesame oil
1 teaspoon minced garlic
1 teaspoon minced ginger
1 teaspoon cornstarch
2 tablespoons water
Red pepper flakes (optional, for some heat)
Instructions:
Preheat your air fryer to 375°F (190°C) for a few minutes.
Season the chicken breasts with salt and pepper. This will give them some flavor.
Prepare three shallow bowls: one with flour, one with beaten eggs, and one with a mixture of panko breadcrumbs and sesame seeds.
Dredge each chicken breast in the flour, shaking off any excess. Then dip them into the beaten eggs, allowing any excess to drip off. Finally, coat them with the breadcrumb-sesame seed mixture, pressing the breadcrumbs onto the chicken to adhere.
Lightly grease the air fryer basket with cooking spray or a small amount of oil to prevent sticking. Place the breaded chicken breasts in the basket, making sure they don't touch each other.
Air fry the chicken breasts for about 15-20 minutes, flipping them halfway through the cooking time, until they are golden brown and the internal temperature reaches 165°F (74°C).
While the chicken is cooking, prepare the sauce. In a small saucepan, combine the soy sauce, honey, rice vinegar, sesame oil, minced garlic, and minced ginger. Bring the mixture to a simmer over low heat.
In a separate small bowl, mix the cornstarch and water until smooth. Slowly add this mixture to the sauce while stirring constantly. Continue to simmer until the sauce thickens. If you want some heat, you can add red pepper flakes to the sauce.
When the chicken breasts are done, remove them from the air fryer and allow them to rest for a couple of minutes. Then slice the chicken into strips or chunks.
Drizzle the sesame sauce over the chicken or serve it on the side for dipping.
Garnish with additional sesame seeds and some chopped green onions if desired.