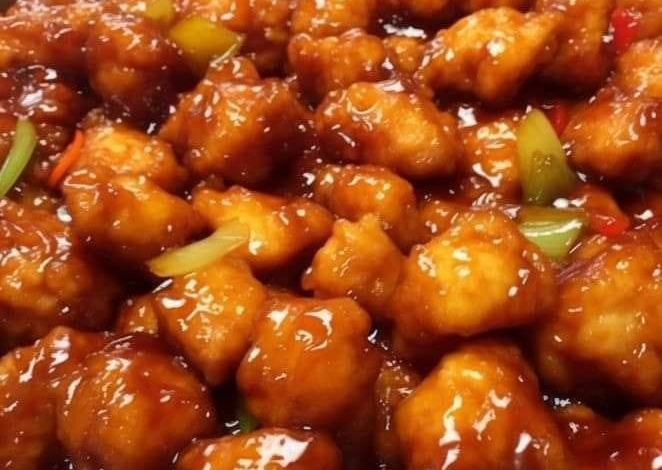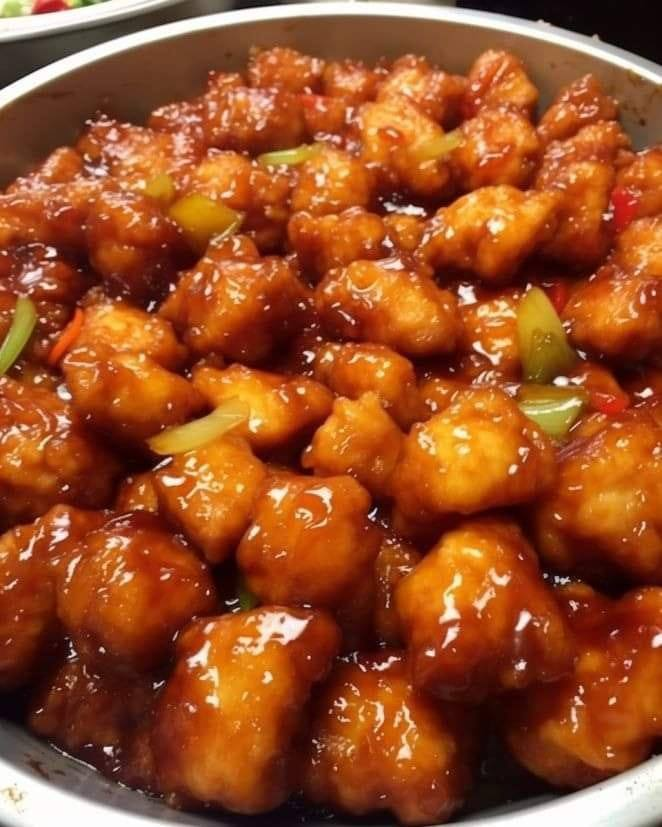 Ingredients:
For the Chicken:
1 ½ pounds boneless, skinless chicken breasts, cut into bite-sized pieces
1 cup all-purpose flour
2 large eggs, beaten
Salt and pepper to taste
Cooking spray or oil for greasing
For the Sweet and Sour Sauce:
1 cup ketchup
1/2 cup white sugar
1/2 cup apple cider vinegar
1/4 cup soy sauce
2 cloves garlic, minced
1 teaspoon ginger, minced (or ginger powder)
1/4 cup pineapple juice (from canned pineapple)
1 cup pineapple chunks (canned or fresh)
1 red bell pepper, diced
1 green bell pepper, diced
1 onion, diced
Instructions:
Preheat your oven to 375°F (190°C).
Season the bite-sized chicken pieces with salt and pepper to taste.
Dredge each piece of chicken in the flour to coat, then dip it into the beaten eggs, allowing any excess to drip off.
Place the coated chicken pieces on a baking sheet lined with parchment paper or a greased baking dish.
Bake the chicken in the preheated oven for about 20-25 minutes or until it's cooked through and the coating is golden brown.
While the chicken is baking, prepare the sweet and sour sauce. In a saucepan, combine the ketchup, white sugar, apple cider vinegar, soy sauce, minced garlic, minced ginger, pineapple juice, pineapple chunks, diced red bell pepper, and diced green bell pepper.
Cook the sauce over medium heat, stirring occasionally, until it thickens and the peppers become tender, usually about 10-15 minutes.
Once the chicken is done baking, remove it from the oven.
Pour the sweet and sour sauce over the baked chicken pieces, making sure they are well coated.
Return the chicken to the oven and bake for an additional 10-15 minutes, allowing the sauce to glaze and the flavors to meld.
Serve your baked sweet and sour chicken over steamed rice or with a side of vegetables, garnishing with some extra pineapple chunks if desired.
Enjoy your homemade baked sweet and sour chicken! It's a tasty and healthier alternative to the restaurant version