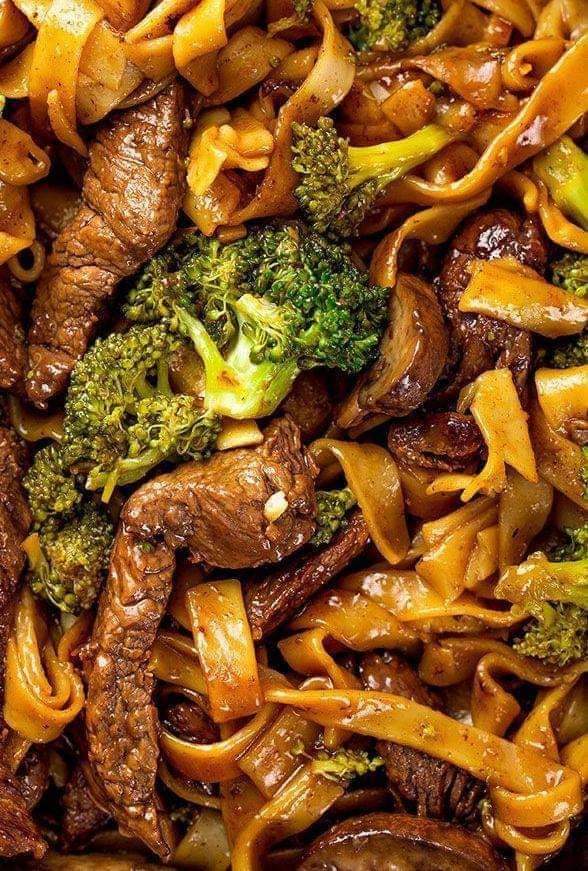 INGREDIENTS:
12 oz. wide rice noodles or udon noodles
1/3 c. low-sodium soy sauce
3 cloves garlic, minced
Juice of 2 limes, plus wedges for serving
1 tbsp. Sriracha
1 tsp. honey
3 tbsp. toasted sesame oil, divided
1 tbsp. cornstarch
3/4 lb. flank steak, thinly sliced against the grain
1 large head broccoli, cut into florets
8 oz. baby bella mushrooms, sliced
DIRECTIONS:
-In a large pot of salted boiling water, cook noodles according to package directions until al dente. Drain, then rinse with cold water.
-In a small bowl, whisk together soy sauce, garlic, lime juice, Sriracha, honey, and 2 tablespoons of sesame oil, then whisk in cornstarch until smooth.
-In a large skillet over medium-high heat, heat remaining 1 tablespoon sesame oil. Add steak and sear 3 to 5 minutes per side.
-Stir in broccoli, mushrooms, and 2 tablespoons water and cook until tender, about 6 minutes more. Add sauce, simmer 3 minutes, then reduce heat to low and add cooked noodles. Toss until fully coated and warmed through.
-Serve with lime wedges.