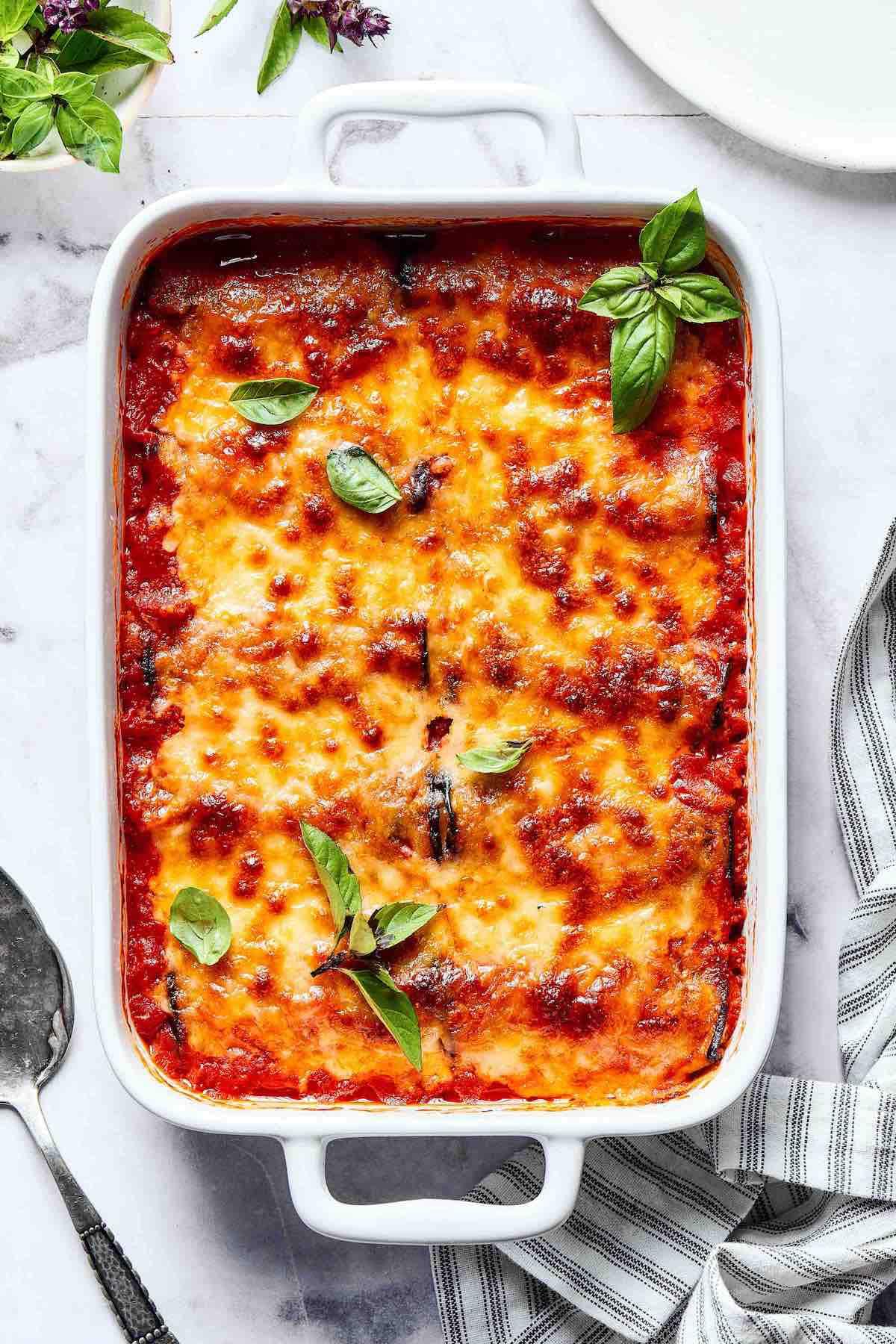 Ingredients needed
This recipe calls for simple ingredients that are similar to a traditional lasagna. I recommend using store-bought tomato sauce and ricotta to get this recipe on the table faster. Here is what you'll need:
Eggplant. Sliced, salted, and baked.
Olive oil – A must before roasting eggplant. It provides fat and flavor to the typically bland vegetable.
To make the ricotta filling:
Ricotta cheese – Try to find a low-moisture ricotta. The last thing you want is watery cheese!
Parmesan cheese – For salty, extra cheesy bites.
Egg – An egg will bind the cheesy filling together, preventing it from seeping out the sides of the eggplant while baking.
Garlic – Fresh cloves are best.
Basil – Fresh, preferably.
Salt and pepper – For flavor.
To assemble the eggplant rolls:
Tomato sauce – Use your favorite jarred tomato or marinara sauce, or make your own using my easy Low Calorie Pasta Sauce recipe.
Mozzarella cheese – It's shredded and sprinkled on top of the assembled rolls.
Parmesan cheese – Because why only add one type of cheese on top when you can have two?
Fresh basil leaves – The flecks of green on top make the finished dish pop.
How to make eggplant rollatini
This easy eggplant rollatini comes together in no time. Here's how it's done:
Step 1 – Prepare the eggplant
Cut the eggplants lengthwise into ¼-inch slices. Sprinkle both sides of each slice with salt and set them aside. Salting the eggplant about 30 minutes ahead of baking will help it release excess moisture and tame its naturally bitter flavor.
Next, transfer the rinsed and dried eggplant slices to a parchment-lined baking sheet. Drizzle olive oil over top and bake in the oven until soft.
Set it aside to cool while you work on the rest.
Step 3 – Make the filling
Stir the ricotta cheese, parmesan cheese, egg, garlic, basil, salt, and pepper together in a mixing bowl until it's combined.
Step 4 – Assemble the eggplant rolls
Spread a thin layer of tomato sauce on the bottom of the baking dish.
Add a small spoonful of the cheesy ricotta filling near the end of an eggplant slice. Roll it up tightly and place it in the dish. Repeat until you run out of eggplant/ricotta.
Spoon the rest of the tomato sauce over the eggplant rolls. Top with shredded mozzarella cheese and parmesan.
Step 5 – Bake
Cover the dish with foil and bake in the oven. After about 20 minutes, remove the foil and bake again until the cheese is melted and gooey.