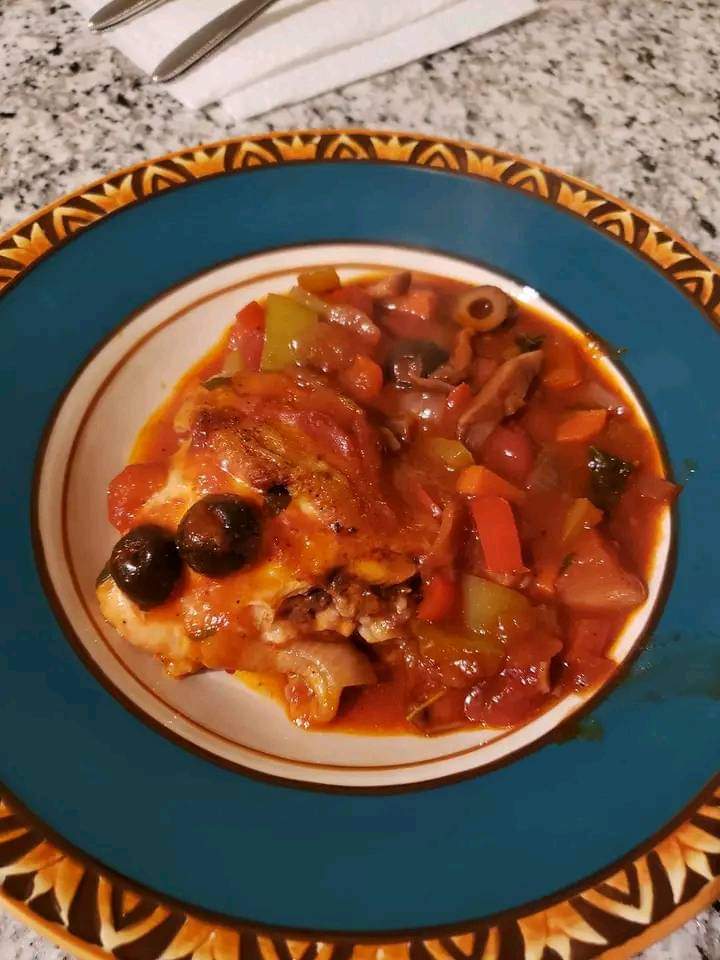 Ingredient
. Olive oil
6 bone in chicken thighs
Salt & pepper
Onion, diced
3 garlic cloves, grated
Yellow pepper, diced
Red pepper, diced
Carrot, diced
Mushrooms, sliced
Black olives, cut
8 sprigs, thyme
2 T. Parsley, chop
2 T. Basil, chop
1 t. Dry oregano
3/4 C. Red wine
Can crushed tomatoes
2 T. Tomato paste
Couple roma tomatoes, cut up
1/2 t. Red pepper flakes
Season chicken with salt & pepper. Heat 2 T. Olive oil in heavy bottom pan. Sear chicken on both sides until golden, 3-4 minutes each side. Remove from pan and set aside.
Sauté onions until transparent, 3-4 minutes. Add garlic and cook about 30 seconds. Add the peppers, carrot, mushrooms & herbs, cook 5 minutes, until vegetables begin to soften.
Pour in wine, scraping up browned bits from the bottom of the pan. Cook until wine is reduced , about 2 minutes.
Add crushed tomatoes, tomato paste, roma tomatoes and chili flakes. Season with salt & pepper.
Return chicken pieces to the pan.
Preheat oven 375° degrees
Cover pan and cook 50 minutes.
Remove lid, add the olives and cook 20 minutes, until chicken is tender and falling off the bone, and sauce has reduced.
Enjoy!