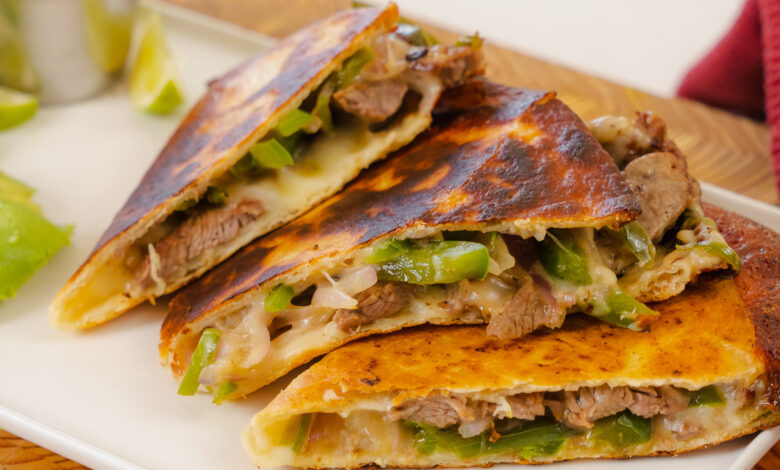 INGREDIENTS
STEAK
1

new york strip steak

1

 

tsp

salt

1

 

tsp

black pepper

1

 

tsp

cumin

1

 

tsp

oregano
FAJITA VEGGIES
1

 

cup

red onion, thinly sliced

2

 

cloves

garlic, thinly sliced

1

green pepper, thinly sliced
VINAIGRETTE
2

chipotle peppers in adobo sauce

1/4

 

cup

honey

1/4

 

cup

red wine vinegar

2

 

cloves

garlic

1

 

tsp

salt

1

 

tsp

pepper

1

 

tsp

oregano

1/2

 

cup

neutral flavoured oil
FOR ASSEMBLY
2

Flour tortillas

1

 

cup

mozzarella or monterrey jack cheese

2 tbs

hot sauce

sour cream
INSTRUCTIONs
Preheat a pan over medium high heat. While the pan is heating, slice your steak and season with salt, pepper, cumin, and oregano. Once pan has reached temperature add in a tbs of oil and then drop in the steak. Saute for 2-3 minutes or until the outside is nice and brown which the centre is still pink. Set aside.

In the same pan drop in the fajita veggies and saute for 2-3 minutes. You want the veggies still to have some bite to them. Once done cooking, remove from pan and set aside.

In the bowl of a blender add the chipotle peppers, honey, red wine vinegar, garlic, salt, pepper, and oregano. Blend on might for 20 seconds and then start slowly streaming in the oil. Don't rush this process. Once oil is done streaming, you can stop the blender and transfer vinaigrette to a jar.

Place a clean pan over medium high heat. Warm up a tortilla and then sprinkle cheese on one half of the tortilla, followed by the steak, veggies, more cheese. Next fold the other side of the tortilla over the steak, cheese, and veggies, and push down. Fry both sides of the quesadilla until the cheese is melted and both sides are nice and crispy.

Serve quesadilla with vinaigrette and sour cream mixed together in a small bowl. Use this as dipping sauce! I also like having some hot sauce close by too! Enjoy!