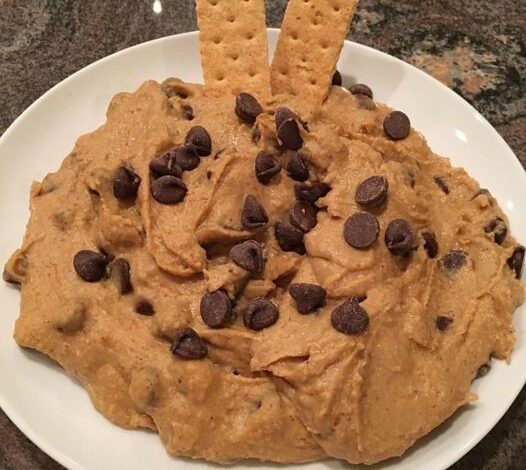 Cookie Dough Dip Ingredients:
1 can (about 15 ounces) of chickpeas1/4 cup brown sugar1/4 cup creamy peanut butter2 tablespoons oats1 tablespoon milk2 tablespoons vanilla1/2 teaspoon salt1/4 teaspoon baking soda1/2 cups chocolate chips Snacks to dip – apple slices, graham crackers, fresh fruit Cookie Dough Dip Directions:
Put chickpeas, brown sugar, peanut butter, oats, milk, vanilla, salt and baking soda into a food processor and blend well.
Remove dip from processor and fold in chocolate chips.
Chill and serve at your leisure with your favorite fruit or crackers.
Cover and store in the refrigerator – if there are any leftovers.
Overall, this cookie dough dip is actually on the healthier side when it comes to snacks. It is very low in cholesterol, high in dietary fiber, high in manganese and very high in vitamin B6! Just 2 tablespoons will run you around 105 calories and 1 gram in saturated fat. This Cookie Dough Dip is only 3PointsPlus on Weight Watchers.