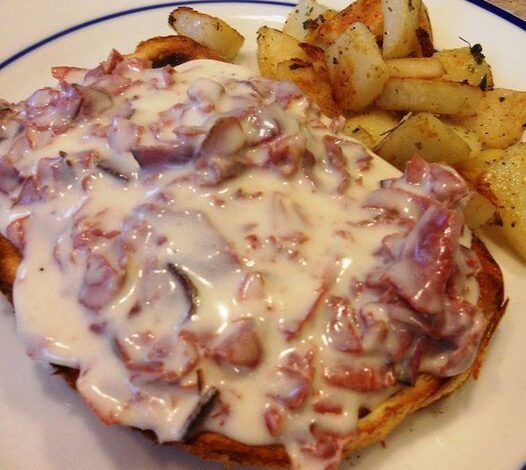 Ingredients:
2 cups dried beef, chipped into small pieces
4 tablespoons butter
4 tablespoons all-purpose flour
2 cups milk
Salt and pepper to taste
Toast (slices of bread, traditionally white bread)
Instructions:
Start by rinsing the dried beef under cold water to remove some of the excess salt. Pat it dry with paper towels, then chop or "chip" it into small pieces. The size of the pieces is a matter of personal preference.
In a medium-sized saucepan, melt the butter over medium heat.
Once the butter is melted, add the chipped beef to the saucepan and sauté it for a few minutes until it starts to slightly brown. This helps to remove some of the saltiness.
Sprinkle the flour over the beef and stir to combine. Cook for a couple of minutes to remove the raw flour taste.
Slowly add the milk, whisking continuously to prevent lumps. Keep whisking until the mixture thickens and comes to a simmer. This will take about 5-10 minutes.
Reduce the heat to low and let the mixture simmer for a few more minutes, stirring occasionally. The sauce should thicken to a creamy consistency.
Season with salt and pepper to taste. Be cautious with the salt, as the dried beef can still be quite salty.
Toast your bread until it's golden brown.
To serve, ladle the creamed chipped beef over the toasted bread. This dish is typically served open-faced, with the creamy mixture generously spooned over the toast.
Creamed chipped beef on toast is a simple and savory dish that's perfect for breakfast or brunch. It's known for its rich, hearty flavors and has been a favorite in American cuisine for decades.