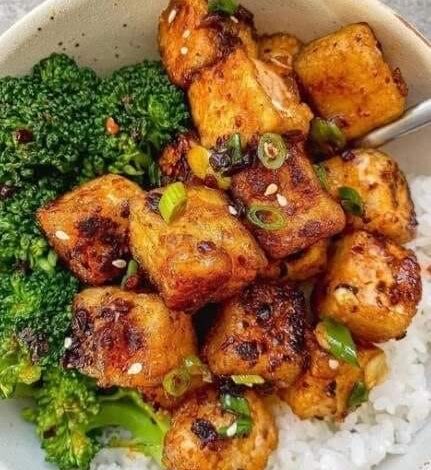 Ingredients:
350g firm tofu, pressed and chopped into cubes
50g cornflour, or more if needed
2 tablespoon vegetable oil
1 teaspoon sesame oil
2 tablespoons light soy sauce
1 teaspoon rice vinegar
1 teaspoon honey, or sugar
1 teaspoon minced garlic
1/2 tablespoon chilli oil (optional, but a must for me!)
Garnish: chopped spring onions, sesame seeds.
Instructions:
Remove tofu from packaging and drain. If tofu needs pressing, wrap a sheet of kitchen towel and place some heavy plates on top and leave to drain for 30 mins.
Chop the drained tofu into bitesize cubes, and cover generously in cornflour on all sides.
Mix the soy sauce, vinegar, sugar and minced garlic together and set aside.
Heat up a frying pan with the vegetable oil and sesame oil, and lightly fry the tofu pieces until golden on all sides. Try not to move the tofu too much and let it brown, only move it to prevent burning.
Once tofu is crispy, add in the sauce and combine thoroughly in the pan. Add in the chilli oil if desired and mix through.
Serve and garnish with some chopped spring onions and sesame seeds, and enjoy with some steamed rice and vegetables.