Recipes
FRENCH ONION STEAK PINWHEELS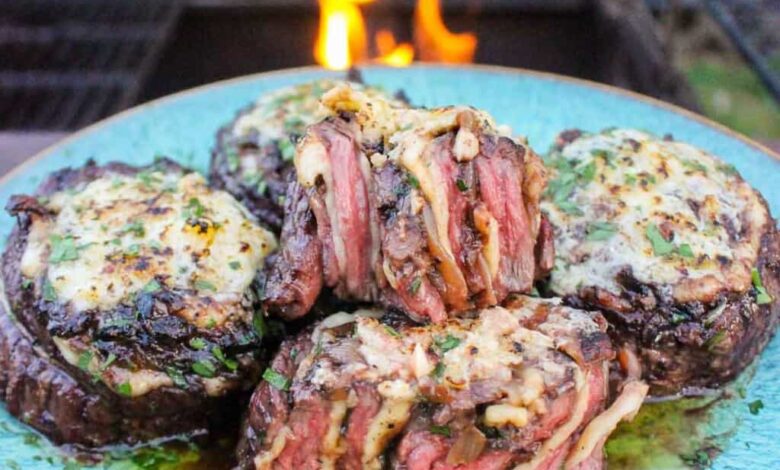 French Onion Steak Pinwheels for a steak rollup kind of dinner.
INGREDIENTS
STEAK:
2-3

 

Skirt Steaks

1

 

tbsp

 

Kosher Salt

1

 

tbsp

 

Black Pepper

1

 

tbsp

 

Garlic Powder

Canola Oil

 

as needed

Chopped Parsley

 

for garnish
STUFFING:
Caramelized French Onions

6-8

 

slices

 

Swiss Cheese
CARAMELIZED FRENCH ONIONS:
2

 

medium White Onions

 

thinly sliced

1

 

cup

 

of Beef Broth

2

 

oz

 

of Bourbon

1

 

tbsp

 

Brown Sugar

1

 

tbsp

 

Chopped Rosemary

8

 

Garlic Cloves minced

Salt & Pepper to taste

2

 

tbsp

 

of Beef Tallow
CHEESE CRUST:
3

 

tbsp

 

of Gruyere grated

1

 

tbsp

 

of Panko Crumbs

1

 

tbsp

 

of Melted Butter

1

 

tbsp

 

of Parmesan grated
INSTRUCTIONS
Preheat your grill to medium high heat (about 350F) for direct cooking. Add a cast iron skillet to the grill 2 minutes before cooking.

Melt beef tallow in the skillet and add your thinly sliced white onions. Season the onions with salt and pepper and begin cooking on a medium heat until they are caramelized (dark brown). This should take about 45-60 minutes to achieve. Stir frequently and move from high heat to prevent them from burning. Once they are dark brown and soft, add your garlic and rosemary to cook for 2 more minutes. Finally, deglaze the skillet with bourbon and beef broth, then add your brown sugar. Let simmer until most of the liquid is gone (about 3-5 minutes). When the onions are done, pull off and keep warm.

Lay your skirt steak out on a cutting board, slice it in half and cover it with parchment paper or plastic wrap. Using a heavy mallet or food mallet, hammer the skirt steak until it is less than ½" thick. Mix together your salt, pepper and garlic then lather your steak with oil and season both sides. Next, add a layer of sliced swiss cheese and top with a line of the caramelized french onions. Carefully roll the skirt steak up lengthwise to create the pinwheel. Secure the roll with two strings of butcher twine and slice between them to make two separate pinwheels. Season the tops with salt, pepper and garlic. Repeat this with the rest of the skirt steak for all of the pinwheels.

Preheat your grill for a two zone high heat temperature (around 400F).

Add your pinwheels to the hot side of the grill to sear each side for 1 minute per side or until they have developed a nice crust. Once they have a nice crust on the outside, pull the pinwheels over to the cool side of the grill to cook until they reach 125F internal (about 10-15 minutes more).

When the steaks are done, pull them off and let rest for 10 minutes. After resting, mix together all the ingredients for the cheese crust and add some to each steak. Torch or broil the crust till it's caramelized. Slice, serve and enjoy!