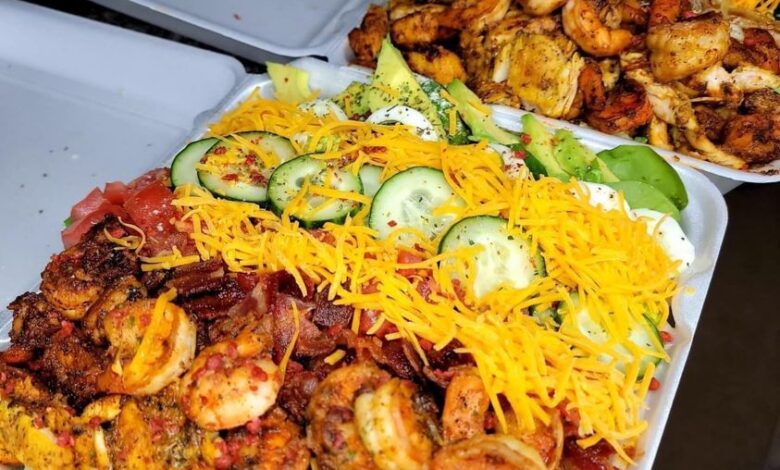 Ingredients:
1 pound large shrimp, peeled and deveined
2 tablespoons olive oil
1 teaspoon smoked paprika
1 teaspoon garlic powder
1 teaspoon onion powder
1/2 teaspoon cayenne pepper (adjust to your preferred level of spiciness)
Salt and black pepper, to taste
1 head romaine lettuce, chopped
1 cup cherry tomatoes, halved
1 cup corn kernels (fresh or canned)
1/2 cup black beans, rinsed and drained
1/4 cup red onion, thinly sliced
1/4 cup fresh cilantro, chopped
1 avocado, diced
Juice of 1 lime
1/4 cup sour cream (optional)
Tortilla chips, crushed (for serving)
For the dressing:
1/4 cup mayonnaise
2 tablespoons lime juice
1 tablespoon honey
1 teaspoon Dijon mustard
1 teaspoon smoked paprika
Salt and black pepper, to taste
Instructions:
Preheat your grill to medium-high heat.
In a bowl, combine the olive oil, smoked paprika, garlic powder, onion powder, cayenne pepper, salt, and black pepper. Add the shrimp to the bowl and toss until they are evenly coated with the marinade. Let the shrimp marinate for about 10-15 minutes.
While the shrimp is marinating, prepare the dressing. In a small bowl, whisk together the mayonnaise, lime juice, honey, Dijon mustard, smoked paprika, salt, and black pepper. Set aside.
Grill the marinated shrimp for about 2-3 minutes per side or until they turn pink and opaque. Be careful not to overcook them, as they can become rubbery. Remove the shrimp from the grill and set aside.
In a large salad bowl, combine the chopped romaine lettuce, cherry tomatoes, corn kernels, black beans, red onion, and fresh cilantro. Toss to mix the ingredients.
Add the grilled shrimp and diced avocado to the salad bowl. Squeeze the lime juice over the salad and toss gently to combine all the ingredients.
Drizzle the dressing over the salad and toss again until everything is coated evenly.
Serve the grilled shrimp taco salad in individual bowls or plates. Optionally, you can top each serving with a dollop of sour cream and a sprinkle of crushed tortilla chips for added flavor and texture.
Enjoy your delicious grilled shrimp taco salad..