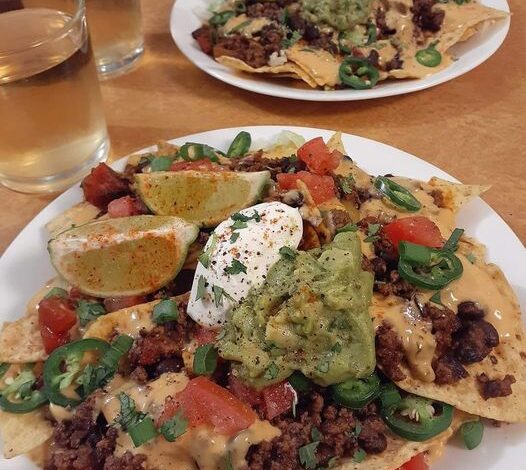 Whether it's for watching football with friends or a fun weeknight dinner, these Ground Beef Nachos are a surefire hit.
Ground Beef Nachos
Ingredients
1 pound ground beef sirloin
½ cup sliced green onion
1 (1-ounce) package taco seasoning
1 (17-ounce) bag tortilla chips
2 cups grated Mexican cheese blend
1 (10-ounce) container queso cheese dip, heated according to package instructions
¼ cup sour cream
½ teaspoon lime zest
2 tablespoons fresh lime juice
1 cup sliced grape tomatoes
2 tablespoons chopped fresh cilantro
1 jalapeño, thinly sliced (seeded, if desired)
Lime wedges, to serve
Garnish: sliced green onion
Instructions
Preheat oven to 400°. Line a large rimmed baking sheet with parchment paper.
In a large skillet, cook beef over medium-high heat, breaking up pieces with a spoon, until browned and crumbly, about 10 minutes. Remove from heat and stir in green onion and taco seasoning.
Layer tortilla chips, cheese blend, and beef mixture on prepared baking sheet.
Bake until cheese is melted, 5 to 10 minutes. Remove from oven, drizzle with cheese dip.
In a small bowl, combine sour cream and lime zest and juice, stirring until smooth. Drizzle over nachos. Sprinkle tomatoes, cilantro, and jalapeño on top. Serve immediately with lime wedges. Garnish with green onion, if desired.