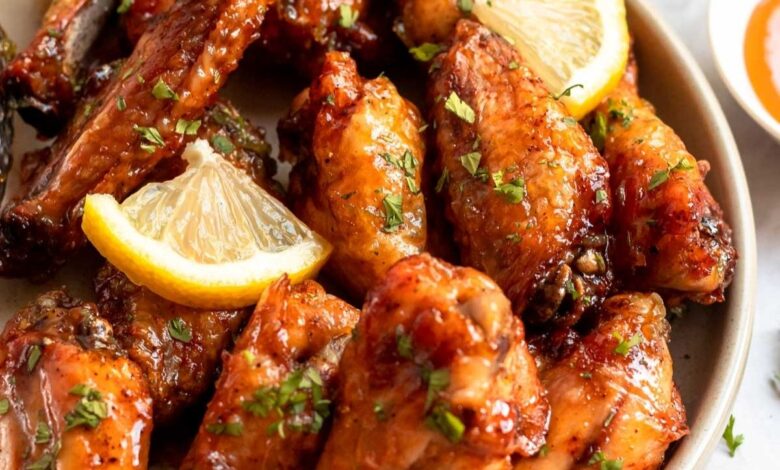 Ingredients:
2 pounds chicken wings
1/2 cup all-purpose flour
1 teaspoon salt
1 teaspoon lemon pepper seasoning
Vegetable oil, for frying
For the hot honey glaze:
1/4 cup honey
2 tablespoons hot sauce (adjust to your preferred level of spiciness)
2 tablespoons unsalted butter
1 tablespoon lemon juice
1/2 teaspoon lemon zest
1/2 teaspoon black pepper
1/2 teaspoon salt
Instructions:
In a large bowl, combine the flour, salt, and lemon pepper seasoning. Mix well.
Rinse the chicken wings under cold water and pat them dry with paper towels.
Place the chicken wings in the bowl with the flour mixture and toss until they are evenly coated.
Heat vegetable oil in a deep skillet or Dutch oven over medium-high heat. The oil should be about 1-2 inches deep.
Carefully place the coated chicken wings into the hot oil, being cautious not to overcrowd the pan. Fry the wings in batches, if necessary. Cook for about 10-12 minutes, flipping occasionally, until the wings are golden brown and cooked through. Use a meat thermometer to ensure the internal temperature of the wings reaches 165°F (74°C).
Once cooked, transfer the fried wings to a wire rack or a plate lined with paper towels to drain excess oil.
In a small saucepan, melt the butter over low heat. Add the honey, hot sauce, lemon juice, lemon zest, black pepper, and salt. Stir well to combine and heat the mixture gently until it becomes smooth and well blended.
Place the fried wings in a large bowl and pour the hot honey glaze over them. Toss the wings in the glaze until they are evenly coated.
Serve the hot honey lemon pepper wings immediately, garnished with extra lemon zest or sliced lemons, if desired.
Enjoy your hot honey lemon pepper wings!