Vegan
INSTANT POT VEGAN STEW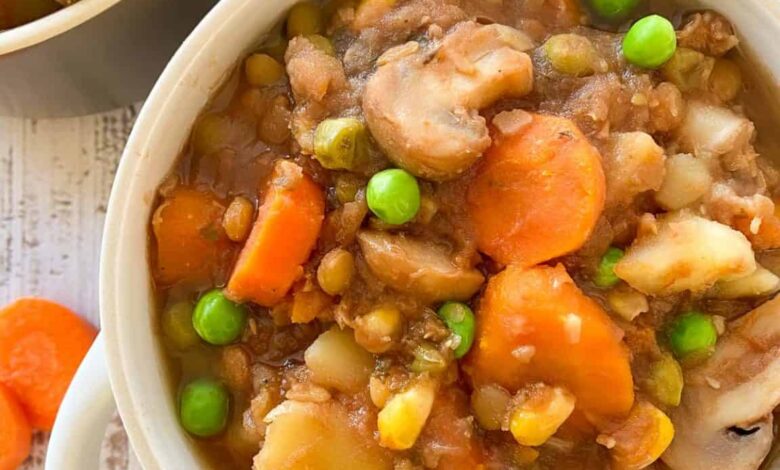 Ingredients:
1 tablespoon olive oil
1 medium onion, diced
2 cloves garlic, minced
2 medium carrots, peeled and chopped
2 celery stalks, chopped
1 cup diced potatoes
1 cup chopped tomatoes (canned or fresh)
1 cup diced zucchini
1 cup diced bell peppers (any color)
1/2 cup green beans, trimmed and cut into pieces
1/4 cup red lentils (optional, for added protein)
4 cups vegetable broth
1 bay leaf
1 teaspoon dried thyme
1 teaspoon dried rosemary
1 teaspoon paprika
1/2 teaspoon smoked paprika (optional, for a smoky flavor)
Salt and pepper to taste
Fresh parsley or cilantro for garnish
Instructions:
Turn on the Instant Pot and select the "Sauté" mode. Add the olive oil and allow it to heat up.
Add the diced onion and minced garlic to the Instant Pot. Sauté for 2-3 minutes until the onions become translucent.
Add the chopped carrots, celery, potatoes, tomatoes, zucchini, bell peppers, and green beans to the Instant Pot. Stir everything together.
If using red lentils, rinse them under cold water and add them to the Instant Pot as well.
Pour the vegetable broth over the vegetables and lentils. Stir in the bay leaf, dried thyme, dried rosemary, paprika, smoked paprika (if using), salt, and pepper.
Cancel the "Sauté" mode and close the Instant Pot lid, ensuring the vent is set to the sealing position.
Select the "Pressure Cook" or "Manual" mode and set the timer for 8 minutes at high pressure.
Once the cooking time is complete, allow for a natural pressure release for about 5 minutes before carefully switching the vent to the "Venting" position to release any remaining pressure.
Open the Instant Pot lid and give the stew a good stir. Adjust the seasoning with more salt and pepper if needed.
Ladle the vegan stew into bowls and garnish with fresh parsley or cilantro.
Serve the Instant Pot Vegan Stew hot with some crusty bread or rice for a satisfying and nutritious meal.
Enjoy this comforting and nourishing vegan stew that's full of vegetables and flavors. It's perfect for a chilly day or anytime you crave a delicious plant-based meal!