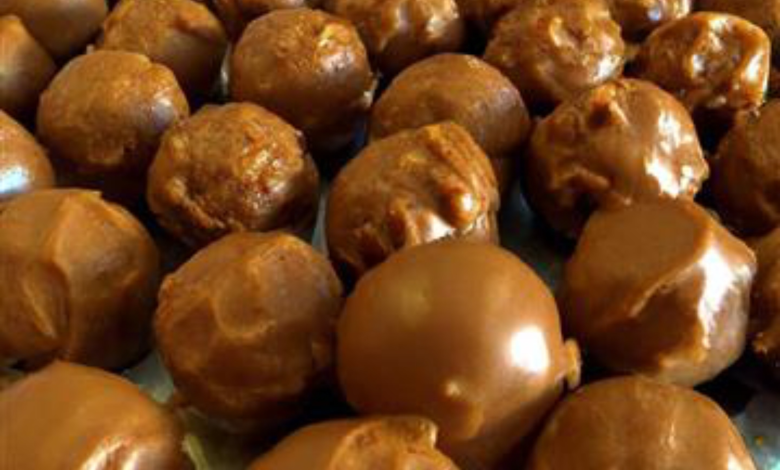 Ingredients:
For the "Butterfinger" filling:
1 cup creamy peanut butter (unsweetened)
1/2 cup powdered erythritol or a similar keto-friendly sweetener
1 teaspoon vanilla extract
For the chocolate coating:
6 ounces sugar-free dark chocolate (chips or chopped)
2 tablespoons coconut oil
For the crunchy topping:
1/2 cup crushed sugar-free peanut brittle (you can find recipes online or purchase pre-made)
Instructions:
In a mixing bowl, combine the creamy peanut butter, powdered erythritol, and vanilla extract. Mix well until all the ingredients are fully incorporated.
Line a baking dish or tray with parchment paper.
Take the peanut butter mixture and spread it evenly into the lined dish, creating a smooth layer. Place it in the freezer for about 30 minutes to firm up.
While the peanut butter mixture is in the freezer, prepare the chocolate coating. In a microwave-safe bowl, melt the sugar-free dark chocolate and coconut oil in short 30-second bursts, stirring in between, until fully melted and smooth.
Once the peanut butter layer has firmed up, remove it from the freezer and cut it into bite-sized pieces.
Dip each piece into the melted chocolate mixture, ensuring it's fully coated. Use a fork or a dipping tool to help with this process. Allow any excess chocolate to drip off.
Place the chocolate-coated pieces back onto the parchment-lined tray.
While the chocolate is still wet, sprinkle the crushed sugar-free peanut brittle over the top of each piece, gently pressing it into the chocolate.
Once all the pieces are coated and topped, place the tray in the refrigerator to allow the chocolate to fully set.
Once the chocolate is set, your Keto Butterfinger Treats are ready to be enjoyed!
Store any leftovers in an airtight container in the refrigerator.
Note: You can adjust the sweetness to your liking by adding more or less sweetener. Also, feel free to experiment with different types of nut butters or sweeteners to suit your taste preferences. Enjoy your keto-friendly treat!