keto recipes
KETO VEGETARIAN LASAGNA WITH SPINACH AND CHEESE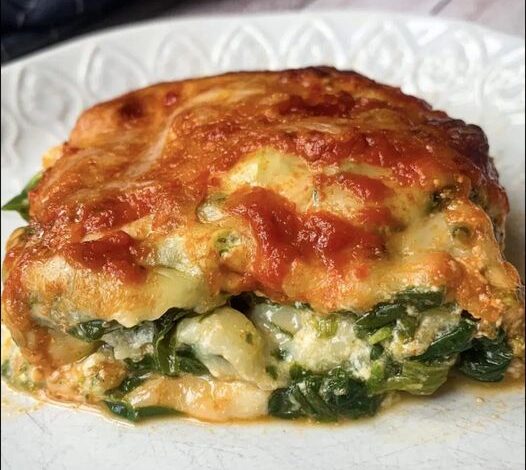 INGREDIENTS
Edam cheese 9 big slices/300 g/10.5 oz
TOMATO SAUCE
Olive oil 1 TBS
1 small onion finely chopped 58 g/2 oz
2 garlic cloves
Tomato passata or tomato puree without added sugar 2 cups/400 ml
Water 1 cup/200 ml
Oregano 2 tsp
Basil 2 tsp
Salt 1 tsp
Freshly ground pepper to taste
SPINACH & CHEESE FILLING
Spinach frozen or fresh cut in small pieces 450 g/16 oz
Salt 1 tsp
Pepper to taste
Nutmeg freshly grated ¼ tsp
Oregano 1 tsp
Shredded mozzarella 1 cup/100 g/3.5 oz
Cottage full fat cheese 1 cup/250 g/8.8 oz
Parmesan cheese grated ¼ cup/25 g/0.8 oz
1 large egg
TOPPING
Shredded mozzarella ½ cup/50 g/1.8 oz
Parmesan ¼ cup/25 g/0.8 oz
INSTRUCTIONS
PREPARE TOMATO SAUCE
In a large pot heat 1 TBS of olive oil.
Add finely chopped onion and minced garlic, stir until onion is caramelized and golden brown.
When onion is caramelized, add tomato puree and water, salt pepper, oregano, basil, stir everything and bring it to simmer.
Keep it simmering for 10 to 15 minutes or until reduced for ⅓ and onion completely soft.
When cooked, remove from the heat and mix in a blender or with an immersion blender until nice and smooth sauce is made.
PREPARE SPINACH & CHEESE FILLING
If using fresh spinach, heat the water with a pinch of salt in a large pot and bring water to boil. Put spinach cut into a smaller pieces into the boiling water and keep it for 2 to 3 minutes or until spinach is wilted. When spinach is wilted, remove it from the boiling water and put it into the icy water, and squeeze out excess water, or press through colander.
If using frozen spinach, just thaw the spinach and squeeze excess water or press through colander.
In a large bowl combine prepared spinach with cottage cheese, egg, shredded mozzarella, parmesan, salt, pepper, oregano and nutmeg, until everything nicely combined.
ASSEMBLING
Preheat the oven to 180 C/350 F.
Cover the bottom of deep lasagna dish with a layer of tomato sauce. Approximately 1 cup of tomato sauce.
Put 3 slices of edam cheese on tomato sauce.
Add half of spinach filling on top of cheese.
Top the filling with 3 slices of edam cheese.
Add 1 cup of tomato sauce on cheese and top with the rest of spinach filling.
Top the filling with the rest of the cheese slices, put remaining tomato sauce on top and sprinkle with shredded mozzarella and spinach.
Bake in a preheated oven for 20 minutes or until firm cheese crust is formed on top.
Serve with salad and enjoy!
Free Keto Meal Plan : KETO DIET PLAN FOR BEGINNERS STEP BY STEP GUIDE