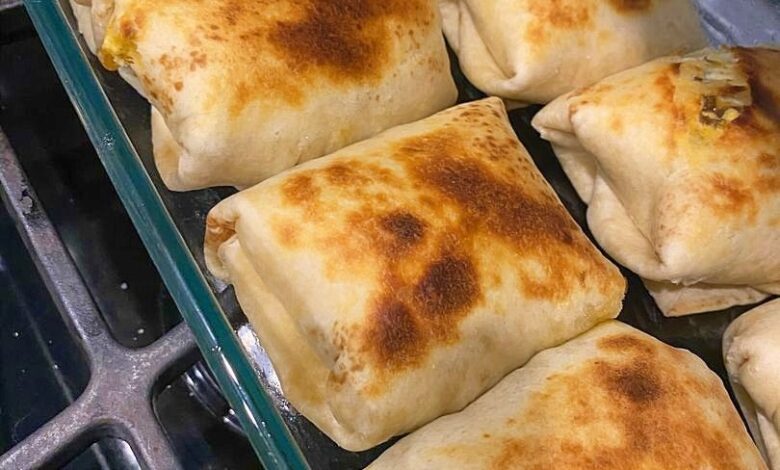 Ingredients:
1 pound ground beef or turkey
1 small onion, finely chopped
2 cloves garlic, minced
1 teaspoon cumin
1 teaspoon paprika
1/2 teaspoon chili powder
Salt and pepper to taste
1 cup shredded cheddar cheese
1/2 cup diced tomatoes
1/4 cup chopped fresh cilantro
1/4 cup diced pickled jalapeños
8 small flour tortillas
Cooking oil for frying
Instructions:
In a large skillet, heat some oil over medium heat. Add the onions and garlic and cook until they become translucent and fragrant.
Add the ground beef or turkey to the skillet and cook until browned, breaking it up with a spatula or spoon as it cooks.
Stir in the cumin, paprika, chili powder, salt, and pepper. Cook for an additional 2-3 minutes to allow the flavors to meld together. Remove from heat and set aside.
In a separate skillet, heat some oil over medium heat. Take one flour tortilla and place a spoonful of the cooked ground beef or turkey mixture on one half of the tortilla.
Sprinkle some shredded cheddar cheese, diced tomatoes, cilantro, and pickled jalapeños on top of the meat.
Fold the other half of the tortilla over to form a pocket and press down gently with a spatula to seal the edges.
Carefully place the loaded pocket taco in the hot skillet and cook for about 2-3 minutes on each side, until the tortilla is crispy and the cheese is melted.
Remove from the skillet and place on a paper towel-lined plate to drain excess oil. Repeat the process with the remaining tortillas and filling.
Serve the loaded pocket tacos warm with your favorite soulful accompaniments such as collard greens, mac and cheese, or sweet potato fries.
These Loaded Cheesy Pocket Tacos with a soul food twist are sure to be a hit at your next gathering or as a tasty snack for yourself. Enjoy!