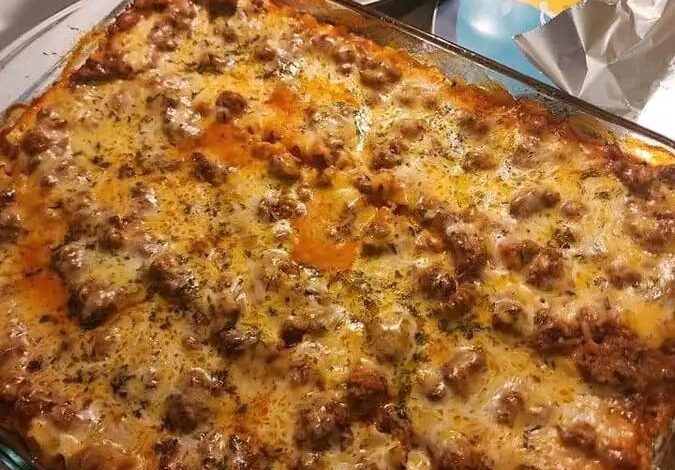 Ingredients:
1 pound ground beef or turkey
1 onion, diced
2 cloves garlic, minced
1 packet taco seasoning
1 can (15 ounces) black beans, rinsed and drained
1 can (15 ounces) corn kernels, drained
1 can (15 ounces) diced tomatoes
1 can (4 ounces) diced green chilies
1/2 cup salsa
12 corn tortillas
2 cups shredded cheese (cheddar, Monterey Jack, or a blend)
Fresh cilantro, chopped (for garnish)
Sour cream (optional, for serving)
Instructions:
Preheat your oven to 375°F (190°C).
In a large skillet, cook the ground beef or turkey over medium heat until browned. Add the diced onion and minced garlic, and sauté until the onion becomes translucent.
Stir in the taco seasoning, black beans, corn kernels, diced tomatoes, diced green chilies, and salsa. Let the mixture simmer for about 5-10 minutes, allowing the flavors to blend together.
In a greased 9×13-inch baking dish, spread a small amount of the meat mixture to create a thin layer at the bottom of the dish.
Place a layer of corn tortillas over the meat mixture, breaking them into smaller pieces if necessary to cover the entire area.
Spoon a generous amount of the meat mixture over the tortillas, spreading it evenly. Sprinkle a layer of shredded cheese on top.
Repeat the layers, alternating between tortillas, meat mixture, and cheese, until you have used all the ingredients. Make sure to finish with a layer of cheese on top.
Cover the baking dish with aluminum foil and bake in the preheated oven for about 25 minutes. Then, remove the foil and continue baking for an additional 10-15 minutes, or until the cheese is melted and bubbly.
Once cooked, remove the Mexican Taco Lasagna from the oven and let it cool for a few minutes. Garnish with freshly chopped cilantro.
Serve the lasagna warm with a dollop of sour cream if desired.
Enjoy your delicious Mexican Taco Lasagna!