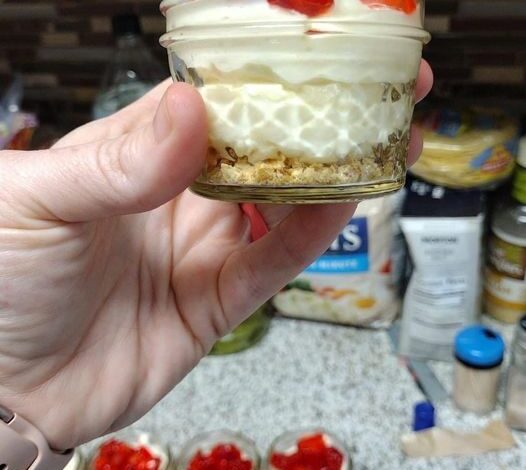 For the Crust:
1 cup graham cracker crumbs (you can use reduced-fat graham crackers for fewer points)
2 tbsp unsalted butter, melted
1 tbsp granulated sugar substitute (adjust to taste)
For the Cheesecake Filling:
8 oz (1 cup) fat-free cream cheese, softened
1/2 cup fat-free Greek yogurt
1/4 cup granulated sugar substitute (adjust to taste)
1 tsp vanilla extract
1 cup fresh strawberries, hulled and chopped
1 tsp lemon juice (optional, for added flavor and to prevent browning)
Instructions:
In a mixing bowl, combine the graham cracker crumbs, melted butter, and granulated sugar substitute. Mix until the crumbs are coated evenly.
Press the graham cracker mixture into the bottom of an 8×8-inch square dish or a similar-sized serving dish to create the crust. Use the back of a spoon or the bottom of a glass to press it down firmly.
In another bowl, beat the softened cream cheese until it becomes smooth and creamy.
Add the Greek yogurt, granulated sugar substitute, and vanilla extract to the cream cheese. Beat until everything is well combined and smooth.
In a separate bowl, toss the chopped strawberries with lemon juice (if using).
Gently fold the chopped strawberries into the cheesecake mixture.
Pour the cheesecake filling over the graham cracker crust in the serving dish, spreading it evenly.
Refrigerate the cheesecake for at least 2-3 hours, or until it has set.
When ready to serve, slice the cheesecake into 9 equal portions.
Weight Watchers Points:
The points value for each serving of this no-bake strawberry cheesecake is approximately 2 points, but it may vary based on the specific ingredients and brands you use. Be sure to adjust the points based on your own calculations using the Weight Watchers app or calculator to ensure accuracy.