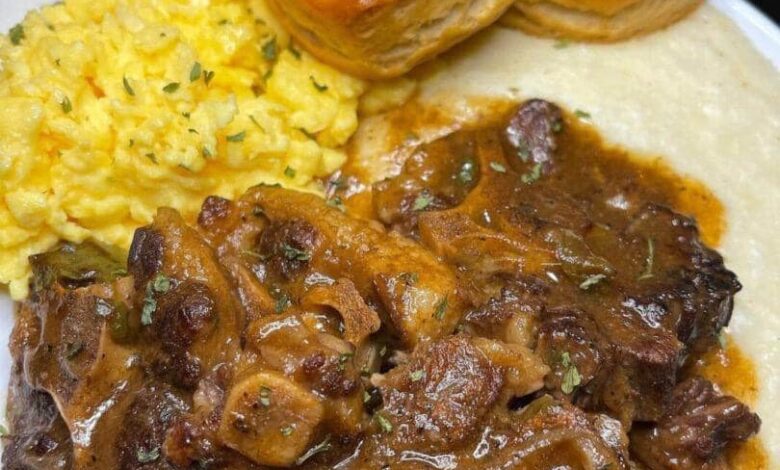 Ingredients:
3-4 pounds oxtails
2 tablespoons vegetable oil
1 onion, chopped
3 cloves garlic, minced
2 carrots, chopped
2 celery stalks, chopped
2 tablespoons tomato paste
4 cups beef broth
1 cup red wine (optional)
1 bay leaf
1 teaspoon dried thyme
1 teaspoon paprika
Salt and pepper to taste
Chopped fresh parsley for garnish (optional)
Instructions:
Season the oxtails with salt and pepper on all sides.
Heat the vegetable oil in a large Dutch oven or heavy-bottomed pot over medium-high heat.
Working in batches, brown the oxtails on all sides until they are well-seared. Remove the browned oxtails from the pot and set them aside.
In the same pot, add the chopped onion, minced garlic, carrots, and celery. Cook for about 5 minutes, stirring occasionally, until the vegetables start to soften.
Stir in the tomato paste, thyme, paprika, and bay leaf. Cook for an additional minute to allow the flavors to meld.
Pour in the beef broth and red wine (if using), scraping the bottom of the pot to release any browned bits.
Return the browned oxtails to the pot, along with any accumulated juices. The liquid should cover the oxtails. If needed, add more broth or water.
Bring the mixture to a simmer, then reduce the heat to low. Cover the pot and let the oxtails cook for about 3-4 hours, or until they are tender and the meat easily falls off the bone. Stir occasionally and check the liquid level to ensure it doesn't dry out. If needed, add more broth or water.
Once the oxtails are tender, remove them from the pot and set them aside. Skim off any excess fat from the cooking liquid.
If desired, you can strain the cooking liquid and return it to the pot, discarding the vegetables and bay leaf. This step is optional, as some prefer to keep the vegetables in the sauce.
Return the oxtails to the pot with the cooking liquid and heat through.
Serve the oxtails hot, spooning the flavorful sauce over them. Garnish with chopped fresh parsley if desired.
Oxtails are often served with sides such as rice, mashed potatoes, or vegetables. Choose your favorite soul food sides to complete the meal.
Enjoy your hearty and flavorful soul food oxtails!