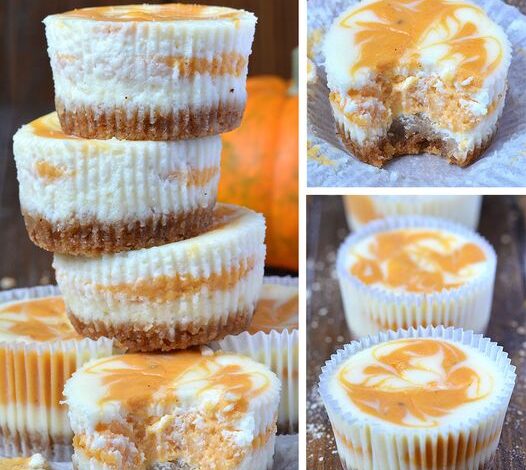 Ingredients
For the crust:
7 graham cracker sheets –crushed
1/2 teaspoon cinnamon
2 Tablespoon sugar
5 Tablespoon unsalted butter- melted
For the cheesecake:
16 oz. cream cheese- softened
3/4 cup powdered sugar
2 teaspoon vanilla extract
2 egg white
For the pumpkin swirl:
1/3 cup pumpkin puree
1 teaspoon ground cinnamon
1/8 teaspoon ground allspice
2 teaspoon all purpose flour
Cook Mode Prevent your screen from going dark
Instructions
Preheat the oven to 300 degrees F and line standard muffin pan with cupcake liners (if you are using paper liner I suggest you to double them).
Crushed the graham cracker sheets into fine crumbs, stir in the cinnamon and sugar, then add melted butter and mix with the fork until the crumbs are evenly moistened.
Place graham cracker crumb mixture in the bottom of each cupcake liner (about 1 heaping Tablespoon in each cup) and press down the crumbs, set aside.
To make the cheesecake filling in the bowl mix softened cream cheese until it's smooth, then mix in powdered sugar and vanilla extract. Mix until just combined. Add egg whites one at the time, but turn the mixer on low speed (DO NOT OVER BEAT IT), until completely incorporated.
To make the pumpkin swirl: in a medium bowl mix together the pumpkin puree, cinnamon, allspice and flour, then add 2/3 cup of the cheesecake mixture to the pumpkin mixture and stir with a spatula..
Divide half the plain cheesecake batter evenly between the cups. Scoop about one tablespoon of the pumpkin mixture on top and cover with the remaining cheesecake batter (liners should be filled almost to the top)
Using remaining pumpkin mixture make 3-4 dots on each of the cheesecakes and swirl with a toothpick .
Bake for 30 minutes (rotating the pan half way through the baking time)
Cool them completely and store in refrigerator.