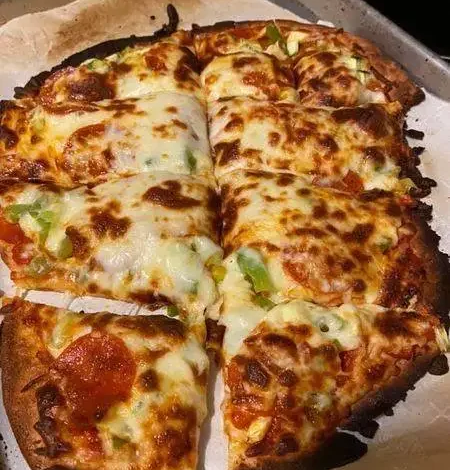 Ingredients:
For the Keto Pizza Crust:
1 1/2 cups shredded mozzarella cheese
2 tablespoons cream cheese
3/4 cup almond flour
1 egg
1/2 teaspoon Italian seasoning
A pinch of salt
For the Toppings:
1/4 cup tomato sauce (look for one with no added sugar)
1/2 cup shredded mozzarella cheese
Your choice of keto-friendly pizza toppings (e.g., pepperoni, olives, bell peppers, mushrooms, spinach)
Instructions:
Preheat your oven to 425°F (220°C).
In a microwave-safe bowl, combine the mozzarella cheese and cream cheese. Heat in the microwave in 20-30 second intervals, stirring in between until it's completely melted and combined. This should take about 1-2 minutes.
Add the almond flour, egg, Italian seasoning, and a pinch of salt to the melted cheese mixture. Stir until a dough forms.
Place the dough between two sheets of parchment paper and roll it out into a thin, round pizza crust. You can shape it to your preferred thickness.
Carefully transfer the crust (with the parchment paper) onto a baking sheet or pizza stone. Bake in the preheated oven for about 10-12 minutes or until it becomes golden brown.
While the crust is baking, prepare your pizza toppings.
Remove the crust from the oven and let it cool for a few minutes. Then, spread the tomato sauce evenly over the crust, leaving a small border around the edges.
Sprinkle the shredded mozzarella cheese on top of the sauce, and add your chosen keto-friendly toppings.
Place the pizza back in the oven and bake for an additional 5-7 minutes or until the cheese is melted and bubbly.
Once the pizza is ready, remove it from the oven and let it cool for a minute before slicing.