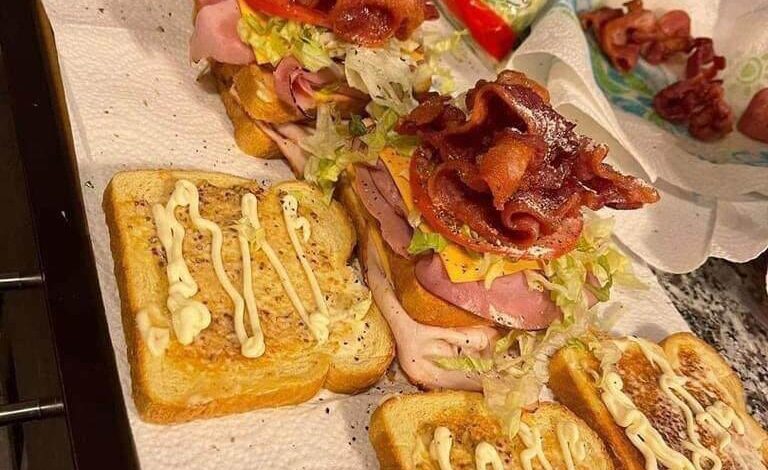 Ingredients
Makes: 2
Ingredients:
2 Small chicken breasts, butterflied
2 tbsp Olive oil
Salt and pepper to taste
8-10 Rashers of smoked streaky bacon
4 Large pickles, sliced
10 Small slices of bread
Soft butter
To make the sandwich:
2 Baby gem lettuce, split into leaves
4 Tomatoes, sliced
6-8 slices Salami
6-8 slices deli ham
6-8 slices Swiss cheese
6-8 slices Smoked cheese
For the sauce:
6 tbsp Mayonnaise
2 tbsp Tomato ketchup
2 tsp Dijon mustard
1 tsp English mustard
A few drops of tabasco sauce
PREP TIME10-15 MINS
COOKING TIME0-10 MINS
Method:
Firstly, create the sandwich sauce by combining the mayonnaise, tomato ketchup, Dijon mustard, English mustard and drops of tabasco sauce in a mixing bowl and mix well. Set aside until ready to use.
Butter 6 slices of the bread and lay out on the work surface. These are going to be the middle layers of your sandwich. Keep the remaining 4 slices to one side, these are going to be grilled and will be the top and bottom of your sandwich.
Spread some of the sandwich sauce on on your work surface, making sure to keep some aside for the remaining 4 slices of bread.
Layer up the lettuce, tomato, deli ham, salami and cheeses onto each slice of bread. Keep 2-4 slices of the cheese to top the chicken with later. Set aside.
Next, brush the chicken with the olive oil and then season.
Pre heat your grill in the 180° open position. Once the grill is ready, grill the bacon rashers once cooked through and then set aside.
Then, grill the chicken on one side of the grill for approximately 3-4 minutes on each side until cooked through.
On the other side of the grill, place the sliced pickles and grill for 1 minute on each side.
Once the chicken is cooked top with a slice or two of the cheese until melted. Remove from the grill and slice each breast in two.
Place the remaining 4 slices of bread on the grill until crisp and golden brown.
Lay the grilled bread down and divide and spread the remaining sandwich sauce between them. Place a piece of the chicken onto each slice.
Divide the bacon and pickles between the other slices of bread on your work surface.
To build the sandwiches, start with a slice of grilled bread with chicken and carefully build up the 3 middle layers. Then top with the final slice of grilled bread with chicken on. Place 2 of the wooden skewers through to hold the sandwiches together then slice in half.
Tuck in and enjoy, before your dog has a chance to eat it from your grasp!