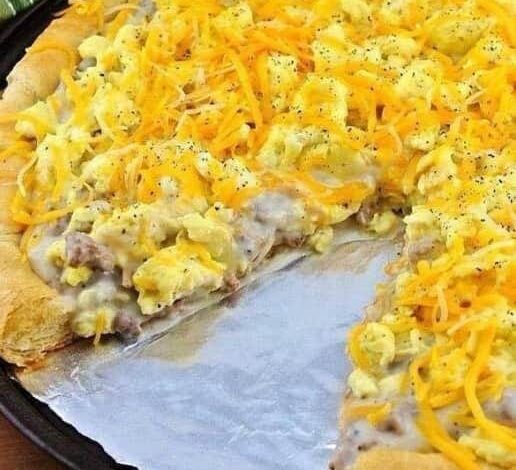 Ingredients:
Pizza dough (store-bought or homemade)
1 cup sausage gravy (homemade or store-bought)
1 cup shredded mozzarella cheese
1/2 cup cooked and crumbled breakfast sausage
4 large eggs
Salt and pepper to taste
Chopped green onions or parsley for garnish (optional)
Instructions:
Preheat your oven according to the pizza dough package or recipe instructions.
Roll out the pizza dough on a floured surface to your desired thickness and shape. Place it on a pizza stone or baking sheet.
Pre-bake the pizza crust for about 5-7 minutes, or until it just starts to set.
While the crust is pre-baking, prepare the sausage gravy. If you're using store-bought gravy, heat it according to the package instructions. If making it from scratch, cook the sausage in a skillet until browned, then stir in flour to create a roux. Gradually whisk in milk until the mixture thickens into a gravy. Season with salt and pepper.
Once the crust is pre-baked, spread the sausage gravy evenly over the crust.
Sprinkle the shredded mozzarella cheese over the gravy, followed by the cooked and crumbled breakfast sausage.
Create wells in the pizza for the eggs. Crack the eggs into the wells.
Season the eggs with a pinch of salt and pepper.
Place the pizza back in the oven and bake for an additional 10-15 minutes or until the crust is golden brown, the cheese is melted, and the eggs are cooked to your liking.
Remove the pizza from the oven and let it cool for a few minutes.
Garnish with chopped green onions or parsley if desired.
Slice and enjoy your delicious sausage gravy breakfast pizza! Feel free to customize the toppings to your liking.