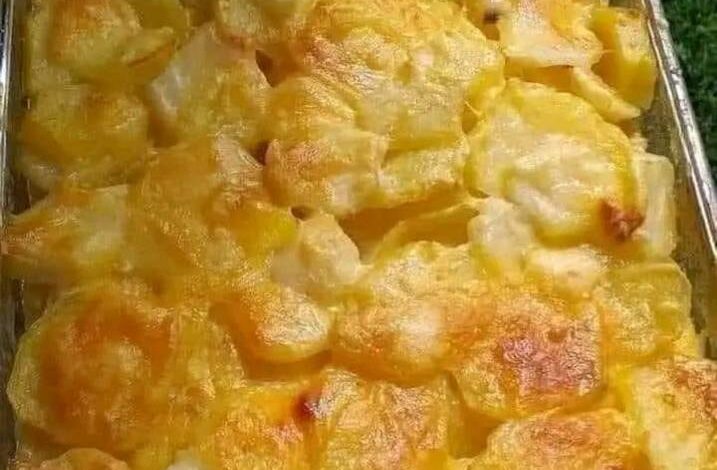 Ingredients:
4 to 5 large potatoes, peeled and thinly sliced
1 medium onion, thinly sliced
3 tablespoons butter
3 tablespoons all-purpose flour
2 cups milk
1 cup shredded cheddar cheese
1 teaspoon salt
1/2 teaspoon black pepper
1/2 teaspoon garlic powder
1/2 teaspoon dried thyme (optional)
Chopped fresh parsley for garnish (optional)
Instructions:
Preheat your oven to 375°F (190°C). Grease a 9×13-inch baking dish with butter or cooking spray.
In a large skillet, melt the butter over medium heat. Add the sliced onions and cook until they become translucent and slightly caramelized, about 5 minutes.
Sprinkle the flour over the onions and butter, and stir well to combine. Cook for an additional 1 to 2 minutes, stirring constantly.
Gradually pour in the milk while stirring continuously. Cook the mixture until it thickens and starts to bubble. This will form a creamy white sauce.
Reduce the heat to low, then add the shredded cheddar cheese to the sauce. Stir until the cheese has melted completely and the sauce is smooth.
Season the sauce with salt, black pepper, garlic powder, and dried thyme (if using). Stir well to incorporate the spices.
Arrange a layer of sliced potatoes in the greased baking dish, slightly overlapping them. Pour a portion of the cheese sauce over the potatoes, spreading it evenly to cover them.
Repeat the process, creating additional layers of potatoes and sauce until all the ingredients are used, finishing with a layer of sauce on top.
Cover the baking dish with foil and place it in the preheated oven. Bake for about 45 minutes.
After 45 minutes, remove the foil and continue baking for an additional 20 to 25 minutes or until the potatoes are tender and the top is golden brown and bubbly.
Once done, remove the scalloped potatoes from the oven and let them cool for a few minutes. Garnish with chopped fresh parsley, if desired, before serving.
Enjoy!