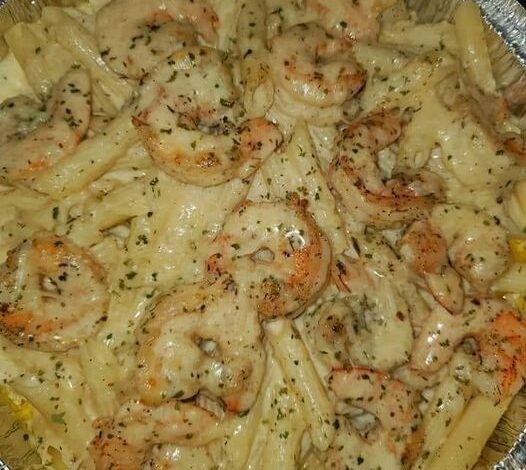 Ingredients:
8 ounces fettuccine pasta
1 pound large shrimp, peeled and deveined
2 tablespoons butter
4 cloves garlic, minced
1 cup heavy cream
1 cup grated Parmesan cheese
1/2 teaspoon salt
1/4 teaspoon black pepper
1/4 teaspoon red pepper flakes (optional)
Chopped fresh parsley, for garnish (optional)
Instructions:
Cook the fettuccine pasta according to the package instructions until al dente. Drain and set aside.
In a large skillet, melt the butter over medium heat. Add the minced garlic and sauté for about 1 minute until fragrant.
Add the shrimp to the skillet and cook for 2-3 minutes per side until pink and cooked through. Remove the shrimp from the skillet and set aside.
In the same skillet, reduce the heat to low and pour in the heavy cream. Stir gently and heat until the cream starts to simmer.
Gradually whisk in the grated Parmesan cheese until smooth and well combined. Continue cooking over low heat, stirring occasionally, until the sauce thickens.
Season the Alfredo sauce with salt, black pepper, and red pepper flakes (if desired). Adjust the seasoning to your taste.
Add the cooked fettuccine pasta to the skillet with the Alfredo sauce and toss until the pasta is well coated.
Return the cooked shrimp to the skillet and gently stir it into the pasta and sauce.
Cook for an additional 1-2 minutes until the shrimp is heated through.
Remove from heat and let the Shrimp Alfredo sit for a few minutes to allow the flavors to meld together.
Serve the Shrimp Alfredo hot, garnished with chopped fresh parsley, if desired.
Enjoy your creamy and flavorful Shrimp Alfredo!