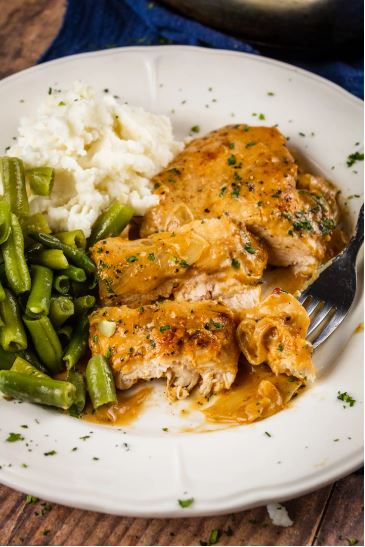 Ingredients:
4 bone-in chicken thighs
Salt and pepper
1/4 cup all-purpose flour
2 tablespoons vegetable oil
1 onion, chopped
1 green bell pepper, chopped
3 cloves garlic, minced
2 cups chicken broth
1 tablespoon Worcestershire sauce
1/2 teaspoon dried thyme
1 bay leaf
Chopped fresh parsley, for garnish
Directions:
Season the chicken thighs with salt and pepper, then coat them in flour.
In a large skillet, heat the oil over medium-high heat. Add the chicken and cook until browned on both sides, about 5 minutes per side. Remove the chicken from the skillet and set it aside.
In the same skillet, add the onion, green bell pepper, and garlic. Cook until the vegetables are softened, about 5 minutes.
Add the chicken broth, Worcestershire sauce, thyme, and bay leaf to the skillet. Stir to combine.
Add the chicken back to the skillet and spoon some of the sauce over the chicken. Reduce the heat to low, cover the skillet, and simmer until the chicken is cooked through and the sauce has thickened, about 30-35 minutes.
Remove the bay leaf and discard. Sprinkle the chopped fresh parsley over the top of the chicken.
Serve and enjoy!