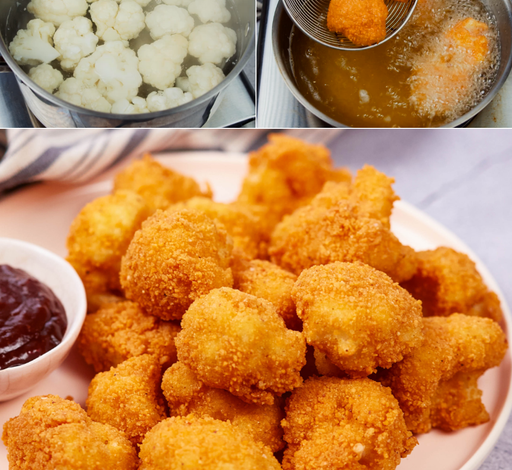 Ingredients:
1 medium head cauliflower, cut into bite-sized florets
1 cup almond flour
2 teaspoons paprika
1 teaspoon garlic powder
1 teaspoon onion powder
1/2 teaspoon salt
1/4 teaspoon black pepper
2 large eggs, beaten
Cooking oil (such as avocado or coconut oil) for frying
Free Keto Meal Plan : KETO DIET PLAN FOR BEGINNERS STEP BY STEP GUIDE
Instructions:
Preheat your oven to 400°F (200°C). Line a baking sheet with parchment paper.
In a medium bowl, combine the almond flour, paprika, garlic powder, onion powder, salt, and black pepper. Mix well to create the coating mixture.
Dip each cauliflower floret into the beaten eggs, allowing any excess to drip off.
Roll the egg-coated cauliflower in the almond flour mixture, pressing gently to ensure the coating sticks. Place the coated floret on the prepared baking sheet.
Repeat the process for all the cauliflower florets.
Once all the florets are coated and on the baking sheet, place them in the preheated oven.
Bake for about 20-25 minutes, or until the cauliflower bites are golden brown and crispy, turning them over halfway through baking for even crispiness.
While the cauliflower bites are baking, heat cooking oil in a deep skillet or pot to about 350°F (175°C).
Once the cauliflower bites are baked and crispy, you can achieve extra crunchiness by briefly frying them in hot oil. Carefully place a few baked cauliflower bites in the hot oil and fry for about 1-2 minutes until they turn extra crispy and golden brown. Use a slotted spoon to remove them from the oil and place them on a paper towel-lined plate to drain excess oil.
Repeat the frying process for the remaining cauliflower bites.
Serve the Keto Super Crunchy Cauliflower Bites warm, with your preferred dipping sauce.
Free Keto Meal Plan : KETO DIET PLAN FOR BEGINNERS STEP BY STEP GUIDE
Nutritional Information (per serving, recipe makes about 4 servings):
Please note that these values are approximate and can vary based on specific brands and quantities of ingredients used.
Calories: ~250 kcal
Total Carbohydrates: ~9g
Dietary Fiber: ~4g
Net Carbs: ~5g
Protein: ~10g
Fat: ~19g
Free Keto Meal Plan : KETO DIET PLAN FOR BEGINNERS STEP BY STEP GUIDE
Again, keep in mind that nutritional values can vary, so it's important to adjust for your specific ingredients and portion sizes.