Recipes
Surf and Turf baked potatoes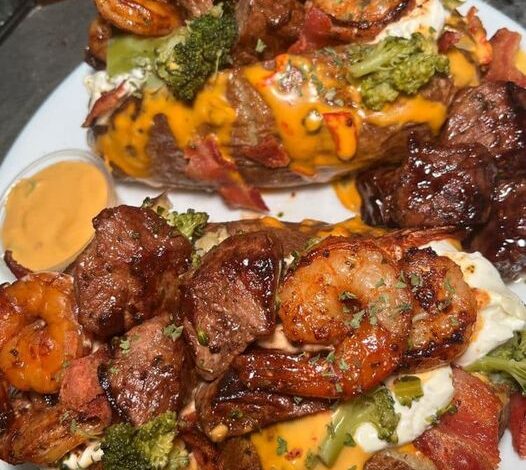 Description
Surf and Turf Stuffed Potatoes are topped with pan-seared steak and shrimp and homemade onion rings.  These loaded potatoes are worth all the calories.
Instructions
Preheat oven to 400 degrees F. Wrap potatoes individually in foil. Bake for 60 minutes or until they can easily be pierced with a fork or a sturdy toothpick. Prep the fillings while the potatoes bake.
Place onion rings in a small, shallow bowl.  Add 1 1/2 cup milk or just enough to cover onion. Let stand for 15 – 20 minutes. Combine flour and Old Bay seasoning in a shallow container. Remove onion rings from milk and toss lightly in flour. Preheat about 1 inch of oil in a medium skillet on medium high heat. Fry onion until golden brown, about 5 minutes. Place on paper towels to drain.
Season shrimp with a pinch of salt and pepper. Preheat an 11-inch skillet on medium high heat. Melt 1 tbsp. butter. Add shrimp, cook until pink on the bottom, turning over after about 1 minute or so. Cook until pink the second side and opaque throughout. Remove from pan. Cover loosely.
Season steak with onion powder, garlic powder, 1/8 tsp. salt, and 1/8 tsp. pepper. Using the same 11-skillet on medium high heat, melt 1 tbsp. (or so) of butter. Place strips of steak, flat and without overlapping, in skillet. Sear for about 2 minutes. Turn over and cook the second side for 1 to 2 minutes. Remove from pan.  Cover loosely then allow to rest while you prepare the remaining components.
In a small pot on medium heat, melt 2 tbsp. butter. Add garlic and cook for 2 minutes. Add chives and cook for 1 minute. Remove from heat.
To assemble potato: remove foil from hot potato and cut a triangular wedge off the top of both potatoes. Peel skin off the wedges and discard skin. Please the rest of the wedges in a shallow bowl. Use a spoon to scoop out the flesh of the potato, leaving about 1/4 to 1/3-inch thick shell. Add the scooped out flesh to the bowl. Add a pinch of salt and pepper and smash potato using a fork. Gently stir in melted butter mixture. Return the flesh back into the potatoes.
Cut steak into 1/2-inch cubes. Chop shrimp into chunks. Add steak and shrimp to potato gently pressing on the filling to adhere. Top with fried onion rings (chop up large pieces, optional).
If meat filling has cooled, lightly cover potato in foil, then bake in a 375 degrees oven for 10 minutes or until meat is hot to the touch.