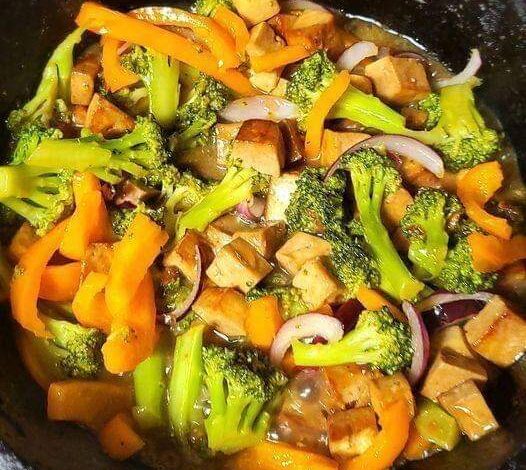 Ingredients
Tofu marinade:
• Liquid aminos (soy sauce can be used instead)
• Maple syrup
• Fresh ginger minced
• Fresh garlic minced (garlic powder can be used instead)
• Nutritional yeast (optional)
Mix and store in the refrigerator a few hours.
Stir fry ingredients:
• Firm or extra firm tofu
• Broccoli
• Bell pepper (I used orange)
• Onion (I used red)
• Oil
• Corn starch
Stir fry directions
Strain the tofu. Save the liquid! That's your stir fry sauce! Cook the tofu in a skillet with a little oil until browned. Boil the broccoli in a separate pan. Add broccoli, bell pepper and onion to the pan with the tofu. Add a little corn starch and water to your marinade, stir and add to the pan. Cook a few minutes and enjoy!