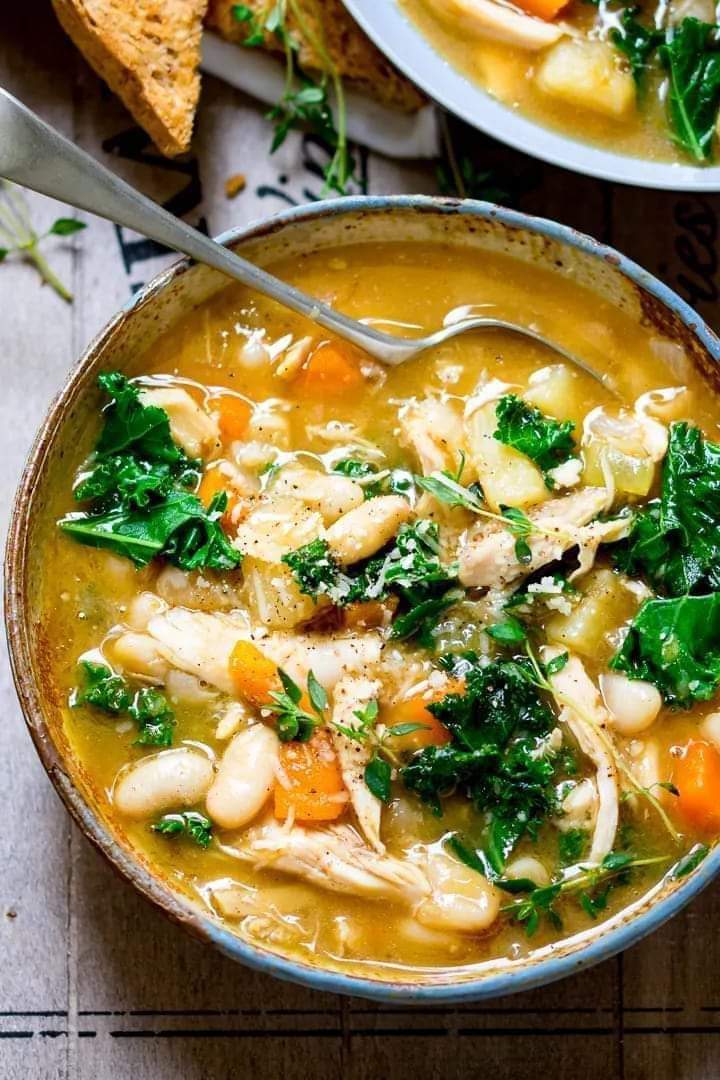 Ingredients:
1 tbsp olive oil
1 onion peeled and chopped
2 cloves garlic peeled and minced
2 sprigs fresh thyme or ½ tsp dried thyme
1 stick of celery sliced
2 medium carrots peeled and chopped
2 medium potatoes peeled and diced
1 litre good-quality chicken stock (ideally homemade, but water with stock cubes will work too. Use water plus bouillon for gluten free)
½ tsp salt
½ tsp black pepper
400 g cooked cannellini beans washed and drained
2 skinless cooked chicken breasts shredded
100 g chopped kale
Small bunch fresh parsley chopped
2 tbsp finely grated parmesan
To Serve:
Fresh thyme
Toasted granary bread to serve gluten free if required – Warburtons Newburn Bakehouse Seeded is a good one
Instructions:
Heat the oil in a large saucepan. Add the onion and cook for 10 minutes on a low-medium heat, stirring occasionally until softened.
Add the garlic and thyme and cook for a further 2 minutes. Add the celery, carrots and potatoes, stir, then add in the chicken stock, salt and pepper. Bring to the boil, then simmer for 20 minutes.
Add in the drained cannellini beans and cook for a further 5 minutes
Add the shredded chicken and heat through for 2-3 minutes, then add the kale. Stir and simmer for 1-2 minutes until the kale has wilted. Test and season with more salt and pepper if needed.
Divide between four bowls, topped with fresh parsley, grated parmesan and a couple of sprigs of fresh thyme. Serve with some toasted granary bread.