Vegan
Vegan Alfredo Sauce (No Cashews)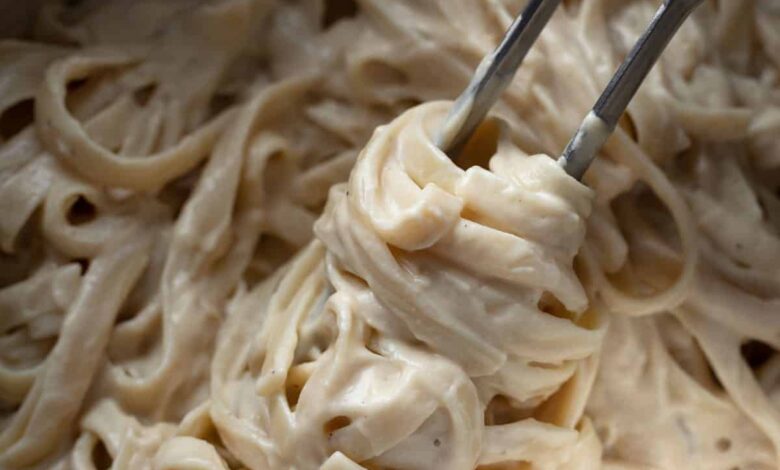 Ingredients:
1 cup unsweetened plain plant-based milk (such as almond, soy, or oat milk)
1/2 cup cooked white beans (e.g., cannellini beans, navy beans)
1/4 cup nutritional yeast
2 tablespoons olive oil
2 tablespoons lemon juice
2 cloves garlic, minced
1 tablespoon white miso paste (optional, for added umami)
1 tablespoon arrowroot powder or cornstarch
1 teaspoon onion powder
1/2 teaspoon salt (adjust to taste)
Freshly ground black pepper, to taste
A pinch of nutmeg (optional, but traditional in Alfredo sauce)
Instructions:
In a blender or food processor, combine the plant-based milk, cooked white beans, nutritional yeast, olive oil, lemon juice, minced garlic, and white miso paste (if using). Blend until smooth and creamy.
In a small bowl, whisk together the arrowroot powder or cornstarch with a few tablespoons of water to create a slurry.
Pour the blended mixture into a saucepan over medium heat. Stir in the onion powder, salt, black pepper, and nutmeg (if using).
Bring the sauce to a simmer, stirring constantly. Once it starts to bubble, add the arrowroot slurry and continue stirring until the sauce thickens, about 2-3 minutes.
Taste the sauce and adjust seasoning if needed. If the sauce becomes too thick, you can thin it out with a bit more plant-based milk.
Once the sauce has reached your desired consistency, remove it from the heat.
Serve this vegan Alfredo sauce over your favorite pasta, vegetables, or even as a dip for breadsticks. It's a tasty and guilt-free alternative to the classic Alfredo sauce!
Note: If you prefer a different flavor profile, you can also add some sautéed mushrooms, spinach, or roasted garlic to the sauce for extra richness and depth. Enjoy!