Vegan
Vegan flatbread pizza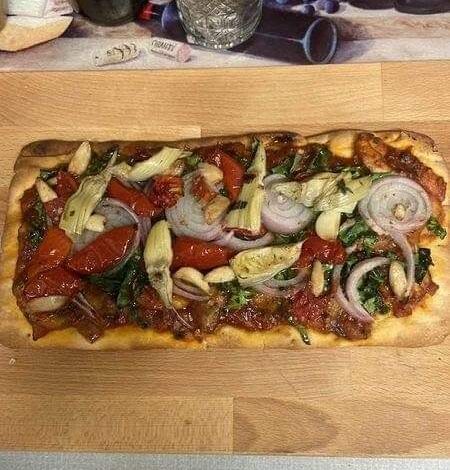 Ingredients:
1 package of pre-made flatbread (or you can make your own)
1 cup of tomato sauce
1 cup of vegan cheese
1/2 cup of sliced mushrooms
1/2 cup of sliced bell peppers
1/4 cup of sliced onions
1/4 cup of sliced black olives
2 tbsp of olive oil
Salt and pepper to taste
Fresh basil leaves for garnish (optional)
Instructions:
Preheat your oven to 400 degrees Fahrenheit.
Place the flatbread on a baking sheet lined with parchment paper.
Spread the tomato sauce over the flatbread.
Sprinkle the vegan cheese over the tomato sauce.
Add the mushrooms, bell peppers, onions, and black olives on top of the cheese.
Drizzle the olive oil over the toppings and season with salt and pepper to taste.
Place the baking sheet in the oven and bake for 12-15 minutes, or until the cheese is melted and bubbly.
Remove the flatbread pizza from the oven and let it cool for a few minutes.
Slice the pizza into pieces and garnish with fresh basil leaves if desired.