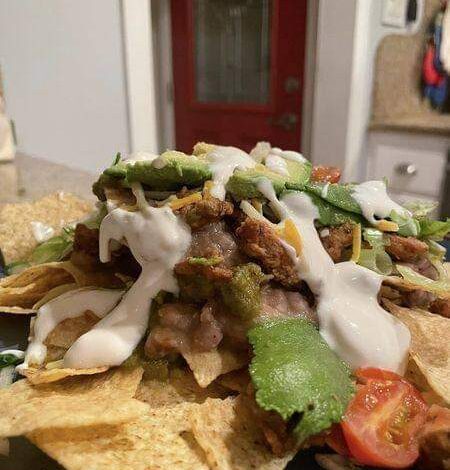 Ingredients:
1 bag of tortilla chips
1 can of black beans, drained and rinsed
1 red bell pepper, diced
1 jalapeno pepper, sliced (optional)
1 avocado, diced
1/2 red onion, diced
1/4 cup chopped fresh cilantro
1 lime, juiced
1 cup vegan shredded cheese
1/2 cup vegan sour cream
Salt and pepper, to taste
Instructions:
Preheat oven to 350°F (175°C).
In a mixing bowl, combine black beans, red bell pepper, jalapeno pepper (if using), avocado, red onion, cilantro, and lime juice. Mix well and set aside.
Arrange the tortilla chips in a single layer on a baking sheet.
Sprinkle vegan shredded cheese over the tortilla chips.
Spoon the black bean mixture over the cheese.
Bake in the oven for 10-15 minutes, or until cheese is melted and bubbly.
Remove from the oven and let cool for a few minutes.
Drizzle vegan sour cream over the nachos and serve.
Sprinkle with additional chopped cilantro, if desired.