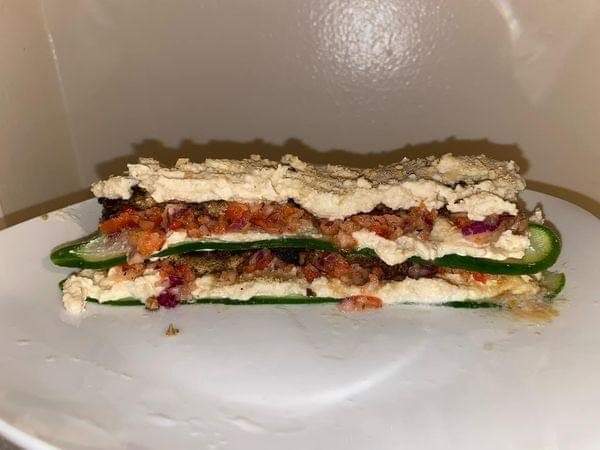 Ingredients:
2 zucchinis
1/2 cup raw cashews
1/2 cup sun-dried tomatoes
1/2 cup fresh basil
2 cloves garlic
1/4 cup nutritional yeast
1/4 tsp salt
1/4 cup water
Instructions:
Using a mandoline or a vegetable peeler, slice the zucchinis into thin strips lengthwise. Set aside.
In a blender or food processor, combine the cashews, sun-dried tomatoes, basil, garlic, nutritional yeast, salt, and water. Blend until smooth and creamy.
Assemble the lasagna by layering the zucchini slices and the cashew mixture in a baking dish. Start with a layer of zucchini slices, then spread a layer of the cashew mixture on top. Repeat until you have used up all of the zucchini and cashew mixture, finishing with a layer of the cashew mixture.
Cover the lasagna with plastic wrap and refrigerate for at least 2 hours, or overnight. This will allow the flavors to meld together and the zucchini to soften slightly.
Serve the lasagna cold, garnished with fresh basil or chopped sun-dried tomatoes, if desired. Enjoy!