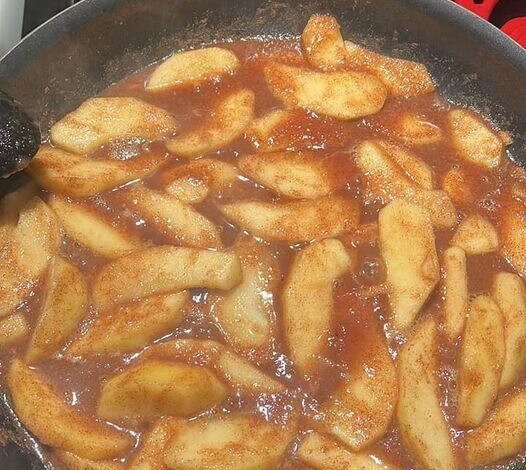 4 medium-sized apples (such as Granny Smith or Honeycrisp)
1 teaspoon ground cinnamon
1/2 teaspoon ground nutmeg
1 tablespoon zero-calorie sweetener (like Stevia or Splenda) or use a sugar substitute like monk fruit sweetener
1/2 cup water
1 teaspoon lemon juice (optional, to prevent browning)
Instructions:-
Prepare the Apples: Peel, core, and slice the apples into thin slices. If you're not using the apples immediately, you can toss them with a bit of lemon juice to prevent browning.
Heat the Pan: Place a non-stick pan over medium heat.
Add Apples: Add the sliced apples to the pan and stir gently.
Add Spices: Sprinkle the ground cinnamon and nutmeg over the apples. Stir to coat the apples evenly with the spices….
Add Sweetener: Sprinkle the zero-calorie sweetener or sugar substitute over the apples and stir again.
Add Water: Pour the water over the apples, which will help create a sauce as it cooks.
Simmer: Reduce the heat to low, cover the pan, and let the apples simmer for about 15-20 minutes or until they become tender. Stir occasionally to prevent sticking, and add a bit more water if needed.
Taste and Adjust: Taste the apples and adjust the sweetness or spice level to your preference. You can add more sweetener or cinnamon if desired…
Serve: Once the apples are tender and the sauce has thickened slightly, remove them from the heat.
Enjoy….