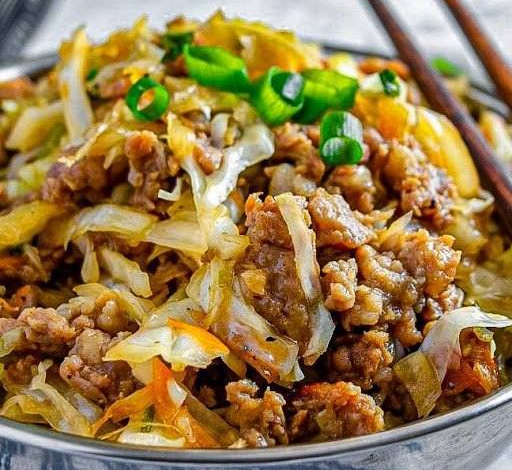 Ingredients:
1 pound ground turkey or lean ground pork (you can also use ground chicken or beef)
1 medium onion, finely chopped
3 cloves garlic, minced
1 tablespoon ginger, minced
1 medium carrot, julienned
1 red bell pepper, thinly sliced
1 small cabbage, thinly sliced (or you can use coleslaw mix)
1/4 cup reduced-sodium soy sauce
2 tablespoons rice vinegar
1 teaspoon sesame oil
1/2 teaspoon red pepper flakes (adjust to your preferred level of spiciness)
Salt and black pepper to taste
Green onions, chopped, for garnish
Sesame seeds, for garnish
Instructions:
In a large skillet or wok, cook the ground meat over medium-high heat, breaking it apart as it cooks until it's browned and crumbled. Drain any excess fat.
Add the chopped onion, minced garlic, and ginger to the cooked meat. Sauté for a few minutes until the onion becomes translucent and fragrant.
Add the julienned carrots and sliced red bell pepper to the skillet. Continue to cook for about 3-4 minutes or until the vegetables start to soften.
Stir in the sliced cabbage (or coleslaw mix) and cook for another 5-6 minutes or until the cabbage is tender but still slightly crisp.
In a small bowl, combine the soy sauce, rice vinegar, sesame oil, and red pepper flakes. Pour this sauce mixture over the contents of the skillet and stir to coat everything evenly.
Season with salt and black pepper to taste. Be mindful of the salt as the soy sauce is already quite salty.
Cook for an additional 2-3 minutes, allowing the flavors to meld and the cabbage to absorb the sauce.
Serve hot, garnished with chopped green onions and sesame seeds.
This dish is not only delicious but also low in points for those following the Weight Watchers program. You can adjust the ingredients and seasonings to suit your taste and dietary preferences. Enjoy your Weight Watchers Egg Roll in a Bowl as a satisfying and healthy meal.